RFID Tag helps manage medical supplies.
Press Release Summary: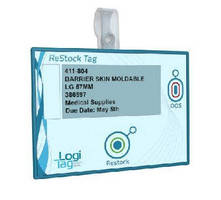 Offering digital inventory management solution for medical supplies in hospitals or vendor facilities, ReStock Tag combines 2-bin kanban configuration with advanced RFID technology and cloud-based software to collect reordering information from RFID tags, run regular restocking reports, or to send automated restocking requests as they occur to hospital ERP systems. Tag can attach to any bin, any color code system, in any supply space including multiple supply areas in one department.
---
Original Press Release:

LogiTag Launches its Revolutionary ReStock Tag RFID Solution at AHRMM 2014



A live demo of the digital inventory management solution will take place at the Association for Healthcare Resource & Materials Management event, displaying its unique capabilities to hundreds of industry leaders, as they gather to exchange best practices and establish new strategies in hospitals



LogiTag Systems, a leading provider of RFID solutions and high-value inventory management systems, announced today the launch of ReStock Tag at AHRMM 2014. The patent pending Tag is a digital inventory management solution for managing medical supplies in any supply room at hospitals or vendor facilities. It combines a two-bin kanban configuration with advanced RFID technology and proprietary cloud-based software to collect reordering information from the RFID enabled tags, run regular restocking reports, or to send automated restocking requests as they occur to the hospital ERP systems.



How the solution works:

Step 1: A digital tag is placed on every two bins containing same supplies (Kanban system).

Step 2: Nurse clicks on the 'ReStock' or 'Out of Stock' buttons if primary or secondary bins are empty.

Step 3: Notification and reordering requests are automatically sent to central supply

Step 4: Delivery status update is displayed on the Tag's screen while materials staff replenish the items.



The ReStock Tag enables hospitals to optimize the management of high-access, low cost medical supplies in any setting. Its benefits include:

• Transform standard bins into  "Smart-Bins"

• Eliminated printed cards

• Supports multiple storage area

• Remote, instant and simultaneous updates



"Our global customers were facing the same challenges - lack of a flexible solution to automate inventory management and reordering of medical supplies," Said Shlomo Matityaho, CEO of LogiTag Systems. "ReStock Tag was designed to completely resolve these challenges.   First of all it is easy-to-use and has minimal effect on the existing infrastructure. The tag can attach to any bin, any color code systems, in any supply space including multiple supply areas in one department.  Second, it enables tremendous savings for the hospital given the reduction in inventory, eliminated waste, and lower management costs. Most importantly, it provides complete visibility to the entire supply chain. The ReStock Tag is really the easy way to move to Kanban, and I strongly believe that it is about to transform the entire inventory management field."



LogiTag will exhibit the ReStock Tag along with its entire RFID Unified Solutions Suite at AHRMM14, taking place at the Orlando World Center Marriott on August 3-6, Booth 623.



Please contact us at info@logi-tag.com to schedule a meeting with our representatives.



About LogiTag

LogiTag develops, manufactures, and markets intelligent, best-in-class RFID solutions and systems for tracking, monitoring, and managing inventory, assets, and people. LogiTag identified a growing need for advanced RFID technology with applications in healthcare, security, and enterprise. LogiTag's founders drew on their extensive knowledge and deep understanding of RFID, software, operations, and logistics to develop modular, Real-Time Location Systems (RTLS) and comprehensive hardware/software suites that integrate smoothly into lean manufacturing and operations.



Press Contact LogiTag:

Karen Shemesh, Online Marketing Director

Mobile: + 972 54 5277168; Tel: +972 9 8354848

karens@logi-tag.com ; info@logi-tag.com

www.logi-tag.com; Twitter;  LinkedIn





More from Agricultural & Farming Products