RFID System offers secure transmission of data.
Press Release Summary: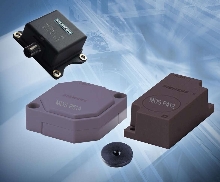 Moby P transmits data and energy on 13.56 MHz ISM radio frequency, suitable for production automation. Mobile data storages require no batteries, can store up to 64 KBytes, and attach directly to product. Transponders hold unique ID numbers centrally and complete production and quality data on distributed basis. Information and diagnostics system simplifies commissioning and fault clearance during operation. A read/write device, SLG, is also included for IQ-Sense sensors.
---
Original Press Release:
RF Identification System for Industrial Production

The new radio frequency identification (RFID) system Moby P from Siemens Automation and Drives (A&D) is suitable for both simple and complex tasks from small assembly lines to identification solutions for production automation. Fast and secure transmission of data offers short cycle times, while the extensive diagnostics simplify commissioning, and small and robust field components enable the system to be used even under extreme conditions.

Moby P transmits data and energy on the 13.56MHz ISM radio frequency which has worldwide approval. Using a special transmission protocol, data can also be transmitted swiftly and securely under difficult conditions. In the event of external interference, for example, only the affected data blocks need to be repeated.

The robust, industry-standard mobile data storages (MDS), also known as transponders, require no batteries and are maintenance-free. The storage capacity of the data volumes offers range from a few bytes up to 64KB, enabling both central and distributed identification solutions to be implemented. The transponders hold unique ID numbers centrally and complete production and quality data on a distributed basis. The information and diagnostics system simplifies commissioning and fault clearance during operation.

The Moby P product line also includes a read/write device (SLG) for the "intelligent sensors" IQ-sense. Compared to simple applications with read-only transponders, this enables cost-effective solutions to be set up in which data is also written, for example in small assembly lines and where there is no great demand for large quantities of data or speed. In addition, parameterization and diagnostics data is also supplied, wire breaks are reported and parameters are automatically copied from master module to field device if a field component is changed.

Backqround information:

In automated industrial production as well as in logistics and distribution, there are more stringent demands for contact-free identification systems, such as immunity to dirt and to temperature fluctuations. The mobile data storages (MDS) are attached directly to the product, product frame or its transport/packaging unit and accompany the object right
from the start. Data is written to and read from the MDSs using the contact-free SLGs by means of radio frequency (RF) technology. This means that they can be used under the toughest production and environmental conditions. The SLGs have a serial
connection to an interface module (ASM) which processes the data traffic to and from the higher level automation systems. In addition to the new Moby P identification system, Siemens offers five other Moby product lines for different industrial applications: Moby D is specifically designed for logistics and distribution, e.g. for containers, boxes and load carriers. Moby E is used not only in logistics and distribution, but also in production, e.g. for workpiece carriers and tools on assembly lines. Moby I is used in production if there are stringent requirements regarding reliability, dynamic reading/writing and degree of protection, e.g. for workpiece carriers and skids. Moby R is a real-time system for locating objects in production as well as in logistics and distribution-for example, in airports, automotive production or in controlling access to company sites and parking lots. The Moby U "long-range" identification system is suitable in industry and logistics for distances of up to three meters.

Further information can be found on the Internet at: http://www.siemens.de/moby


More from Electronic Components & Devices