RFID Stub Antenna offers 400-450 MHz frequency band range.
Press Release Summary: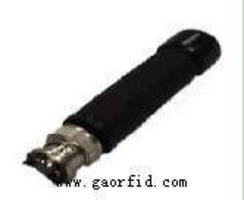 Model GAO 304002 is designed to provide optimal RF reception with GAO 214015 Wavetrend readers, attaching via BNC(M) connector. Unit has omnidirectional reception pattern around vertical axis, with null points at extreme ends of stub. It offers -3 dBi gain at connector, impedence of 500 W, and maximum power of 100 W. Featuring rugged waterproof rubber housing, UV-resistant device can be used outdoors and operates in temperatures from -40 to +70ºC.
---
Original Press Release:

GAO Introduces Its 433 MHz Active RFID Stub Antenna



1/20/2009

Toronto, Canada - GAO RFID Inc. (www.GAORFID.com) recommends its active RFID stub antenna (GAO 304002). This intelligent antenna is designed for optimal RF reception with the Wavetrend reader range (GAO 214015).

This antenna attaches to the reader via a BNC(M) connector and has an omni-directional reception pattern around the vertical axis with null points being at the extreme ends of the stub. In addition, this antenna is UV resistant and can be used in outdoor with rugged waterproof rubber housing.

Specifications of GAO's 433MHz Active RFID Stub Antenna:

o Frequency Band: 400MHz to 450MHz

o Antenna Type: Eighth wave Whip

o Gain at Connector: -3dBi (With reference to a 1/8 wave ground plane)

o Finish: UV resistant black rubber coating

o Impedance: 50Ohms

o Connector: BNC(M)

o VSWR: <1.5 : 1

o Maximum Power: 100W

o Temperature Range: -40º to 70º

o Environmental Specification: Conforms to ETS 300 019

o Dimensions: >87mm x 15mm tapered to 6mm diameter

o Mass: ≤ 22g

For more information about GAO's 433MHz Active RFID Stub Antenna, please visit www.GAORFID.com or contact sales@GAORFID.com.

About GAO RFID Inc.

GAO RFID Inc. is a leading provider of Radio Frequency Identification (RFID) hardware and solutions to end users worldwide. GAO RFID combines best of breed with low cost RFID readers, RFID tags and enabling-RFID software. We have a wide variety of RFID readers, tags and antennas in all the RFID technologies, Low Frequency (LF), High Frequency (HF), Ultra High Frequency (UHF, Gen 2) as well as Active and Semi-Passive. GAO RFID's products and services are easily customized for use in Asset Tracking, Health care, Supply Chain & Logistics, Event Management, Access Control, Livestock Tracking, Inventory Control & Management, Field Service, Maintenance and Document Authentication.

For more information please visit www.GAORFID.com For any media queries:

Director of Marketing,

416-292-0038 ext 238

marketing@GAORFID.com

GAO RFID Inc. is a member of GAO Group, which also includes:

GAO RFID Inc.: www.GAORFID.com

GAO Tek Inc.: www.GAOTek.com

GAO Research Inc.: www.GAOResearch.com

WowGao Inc.: www.WowGao.com

GAO RFID Asset Tracking Inc.: www.GAORFIDAssetTracking.com

GAO Embedded Inc.: www.GAOEmbedded.com

GAO Instruments Inc.: www.GAOInstruments.com

GAO Comm Inc.: www.GAOComm.com

GAO Fiber Optics Inc.: www.GAOFiberOptics.com

More from Transportation Industry Products