RFID Smart Tags track temperature history through cold chain.
Press Release Summary: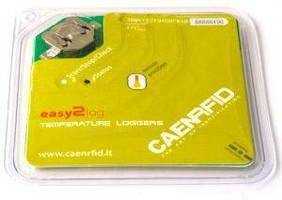 Used during storage and shipping, Easy2log© RFID Temperature Data Logger UHF Tags are sized to fit in pharmaceutical and life science product packaging. Sensors, using EPC C1G2 RFID interface, have read range of 10 m in air @ 2 W ERP, and workers can read collected data using RFID reader. Along with user-set sampling intervals from 1 sec to 18 hr, features include storage for up to 4,000 readings and ability to calculate MKT and remaining product shelf life time.
---
Original Press Release:

RFID Smart Tags Track Pharma Product Temperatures



Track Temperature History Through the Length of the Cold Chain



CHESTERLAND OH—CAS DataLoggers and CAEN RFID now offer our all-new Easy2log© RFID Temperature Data Logger UHF Tags for storing and shipping your pharmaceutical and life science products. These smart temperature tags give you a QUICK and SIMPLE way to view the total temperature history of your products at every point in the pharma cold chain. Thin-sized to fit easily in product packaging, these tags are designed to monitor temperature-sensitive medicines and drugs. RFID tags are also an accurate and low-cost way to prove your best practices to receivers and vendors. Give a CAS DataLoggers Applications Specialist a call at (440) 729-2570 today!



UHF RFID Benefits:

• Can read temperature data without opening a single box;

• Low-cost temperature monitoring solutions;

• Simultaneously read data from multiple loggers;

• Read data across long distances;

• Quick configuration, much faster than connecting USB loggers to a PC one at a time.



RFID Temperature Dataloggers:

CAEN RFID's semi-passive UHF data loggers measure and record product temperature so that workers can quickly read the data using an RFID reader. Using an EPC C1G2 RFID interface, these highly accurate sensors have a read range of 10m in air @ 2W ERP. Their long battery life and simple reset function make them reusable over several shipments.



Configure and start the temperature tags with a button-press or via a standard RFID command. Each tag takes a temperature sampling in user-set intervals ranging between 1 second and 18 hours and can store 4,000 readings. Pharma companies can also benefit from the tag's ability to calculate MKT (Mean Kinetic Temperature) and remaining product shelf life time. For packaging which is shielded by aluminum foil preventing RFID fields, we also offer tags equipped with an external probe. The probe fits easily into a hole cut into the package.



Pharmaceutical product storage and shipping operations often require multiple threshold temperature ranges for different products. Using RFID temperature data loggers you can quickly prove to receivers and customers that your product temperatures remained within safe limits for the duration of their storage and transit. With their internal counters, the data loggers can also give the amount of time a package has spent out of specification. In this way you can see total time spent out of range to determine if your operation's response is fast enough or to identify areas for improvement.



RFID technology is fast becoming an industry standard in cold chain traceability. Your business can use our readers to set up checkpoints with our mobile UHF RFID readers or our fixed Slate readers to setup conveyor portals. With CAEN RFID products you have total flexibility of data collection.



It's easy to use our mobile or desktop RFID readers by just walking near a product palette or box to simultaneously get data from multiple tags. You can also use RFID readers to do a quick inventory check in real time whenever you need a high accuracy inventory count, even in large warehouses!



UHF RFID Readers:

RFID makes it quick and easy for users to download their critical temperature data. We offer both desktop and portable UHF RFID readers as a cost-effective alternative to more costly handheld devices. Our readers have an integrated antenna for short- to medium-range applications and feature a Bluetooth® interface for quick data collection.



Using a CAEN RFID reader, your business can setup RFID checkpoints which allow quick configuration and data collection from temperature tags in a remarkably short amount of time!



EasyLog Software: Three Levels of Detailed Analysis:

Available as a FREE download, Easy2log© software allows you to configure, control and download data from CAEN RFID temperature tags. This gives you multiple layers of temperature verification including histogram data for fast analysis and a full temperature history of your products. CAEN RFID devices also support integration with a web portal so that when you input your tracking number, you'll see the time, location info, and the entire temperature history from the shipment time to the checkpoint.



Stefano Coluccini at CAEN RFID comments, "UHF RFID is the only technology which can quickly scan a large number of tags at a checkpoint. Unlike bar codes, smart temperature tags offer cold chain traceability and validation for substantial business benefits."



For more information on our new CAEN RFID UHF RFID tags and readers for cold chain and pharma temperature monitoring applications, or to find the ideal solution for your application-specific needs, contact a CAS Data Logger Applications Specialist at (800) 956-4437 or visit the website at www.DataLoggerInc.com.



Contact Information:

CAS DataLoggers, Inc.

12628 Chillicothe Road

Chesterland, Ohio 44026

(440) 729-2570

(800) 956-4437

sales@dataloggerinc.com

www.dataloggerinc.com

More from Software