RFID Readers target e-passport applications.
Press Release Summary: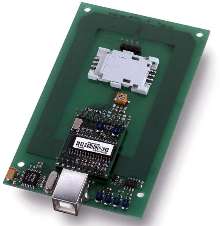 Fully ISO 14443 A/B compatible, Model HF Dual ISO Reader is available as OEM module, plug-and-play board, and desktop module with USB interface. Interoperable with nearly all RFID transponder solutions, units offer data transfer rate up to 848 Kbit/s. Transparent mode allows communication with complex, well-protected, contactless microcontroller smart cards. Built-in anti-collision algorithm enables unit to read numerous tags presented simultaneously.
---
Original Press Release:

ACG Identification Launches its New High-Speed, ISO 14443 A/B RFID Read-Write Module, Especially Designed for e-Passport-Applications


Three versions of this new reader - OEM Module, Plug&Play Board and Desktop Module - enable cost-effective integration at any level of the RFID system

Walluf, 06.10.2004 - ACG Identification GmbH, a leading component and technology supplier in the smart card and RFID markets, launches its new high-speed, fully ISO 14443 A and B compatible RFID reader, named HF Dual ISO Reader. The HF Dual ISO Reader is available in three versions: an OEM module for customers who mainly want to design their own reader and antenna-board and only require a basic RFID reader-engine, a short range plug&play board with USB interface for customers who wish to quickly integrate the reader into their own packaging without the need to develop an antenna, and a ready-to-use housed short range desktop reader with USB interface. The three form factors are designed to allow different levels of integration into the overall RFID system of the client at the lowest possible cost.

The HF Dual ISO Reader is one of the few fully ISO 14443 A and B compatible readers that is interoperable with nearly all RFID transponder solutions available on the market today. The additional transparent mode allows communication with highly complex and well-protected contactless microcontroller smart cards as well. A built-in advanced anti-collision algorithm enables the reader to read numerous tags presented to the reader simultaneously. Furthermore, due to a more powerful and faster CPU and extended buffer memory, ACG's HF Dual ISO Reader guarantees the highest possible data transmission performance over the air interface. At a rate of up to 848 kbit/s, the time required to transfer information between card and reader is dramatically reduced, especially when large amounts of data have to be handled. A data transfer rate of up to 460 kbit/s at the serial interface allows the reader to optimize overall data throughput time. This combination helps to optimize the data communication between the presented card and the host system.

ACG's HF Dual ISO Reader now also offers a bootloader-functionality that allows the customer to easily upgrade the reader's firmware if required (e.g. if a new type of transponder is supported by a newer firmware version); so the customer already has a full protection of his investment, as the reader will be up-to-date also in the coming years.

All versions of the HF Dual ISO Reader include a reader DLL and interface driver for MS Windows that allows quick and easy software integration, the lowest possible development cost for the system integrator and reduced time-to-market for the customer.

ACG's know-how in developing customized applications allows for the delivery of the optimal reader solution for any specific requirement. Via the company's R&D center, ACG offers advanced integration services including design of application-specific RFID antennas optimized for specific customer requirements.

The full ISO 14443 A and B compatibility combined with the high data transfer rate and the extensively tested, flexible firmware has enabled ACG's HF Dual ISO Reader to achieve the best results in its class during recent e-Passport evaluation tests conducted by the NBSP from the US and DFAT from Australia.

About ACG
ACG Identification is an independent component and technology supplier serving the entire value chain of smart card and RFID-based systems. Headquartered in Walluf (Germany), ACG has 18 locations throughout Europe, the Americas, Asia Pacific and the Middle East.

For further information, please contact:
Katja Dienz
ACG Identification
GmbHAm Klingenweg 6A
65396 Walluf
Germany
Phone: +49 6123 791 205
Email: katja.dienz@acg.de

More from Test & Measurement