RFID Readers feature IO link interface.
Press Release Summary: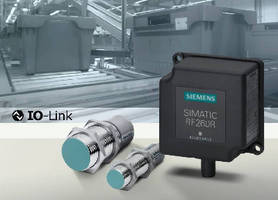 Measuring 70 mm long, Models RF210R and RF220R have cylindrical design with thread diameters of 18 and 30 mm and short ranges of 20 and 40 mm, respectively. Model RF260R, measuring 75 x 75 x 40 mm, is used for ranges up to 130 mm. IO link interface allows readers to be integrated into machines and systems to extend applications. In addition to smart labels that are permanently attached to product, devices can read mechanically applied screw-type transponders and tags.
---
Original Press Release:

Siemens Equips Compact RFID System with IO Link



The Siemens Industry Automation Division has expanded its Simatic RF200 RFID system to include three devices with an IO link. The interface allows the new readers to be easily integrated into machines and systems to extend applications by adding an identification system. The IO link is a multi-vendor standard which provides switching devices and sensors with a uniform point-to-point connection to the control level. Process, parameter and diagnostic data can also be transmitted through these channels at the same time.

The three new Simatic readers with an IO link - RF210R, RF220R and RF260R - are designed for simple identification tasks, such as reading identification numbers or any other user data. The devices can be used in small assembly lines or for production logistics and intralogistics. The RFID system covers a wide range of different requirements: The two compact readers, RF210R and RF220R, are suitable for short ranges of up to 20 mm and 40 mm respectively. They have a cylindrical design with thread diameters of 18 mm (RF210R) and 30 mm (RF220R) and a length of approximately 70 mm. The RF260R reader, which has a rectangular design with dimensions of 75 mm x 75 mm x 40 mm, is used for ranges of up to 130 mm. The three new readers are compatible with all existing ISO 15693 transponders. They can read inexpensive smart labels that are permanently attached to the product, as well as mechanically applied screw-type transponders and tags, specifically designed for inserting flush into metal - for example into a workpiece holder.

The new IO link components are connected to the higher-level control system with the aid of a master module. Siemens offers an IO link master module from the Simatic ET 200S distributed I/O system for cubicle mounting. A robust Simatic ET 200eco PN block I/O master module with the higher IP67 degree of protection can be used for installation at field level. Both master modules have four IO link channels for connecting up to four readers. They are configured by the PCT (Port Configuration Tool) software, which can assign parameters to all Siemens IO link devices. The readers are ready for use as soon as they have been connected to the master module and are easy to replace during servicing.

The RFID Systems are an integral part of the Simatic Ident product portfolio which covers the products and solutions of the Siemens Industry Automation Division in the area of industrial identification. Siemens has been developing RFID systems for production and logistics for the last 25 years and is market leader in Europe with more than 300,000 installed RFID read/write devices. The company offers a wide range of components for many different vertical markets and purposes. These include read/write devices, antennas, mobile data tags, software, as well as consulting and design. The RFID portfolio so far comprises: Simatic RF200, the compact RFID system for the RF range according to ISO 15693, Simatic RF300, the compact but powerful RFID system in the RF range, and the Simatic RF600, the powerful RFID system in the UHF range. In addition to RFID systems, the Simatic Ident range also includes optical code reader systems for detecting and verifying 1D codes (barcodes), 2D codes - such as data matrix codes (DMC) - and OCR (optical character recognition).

You can find more information online at: http://www.siemens.com/ident

You can find additional press material on the topic of industrial identification at: http://www.siemens.com/press/Ident

You can find the text online at: http://www.siemens.com/press/industryautomation/pressreleases

The Siemens Industry Automation Division has expanded its Simatic RF200 RFID system to include a version with an IO link. The IO link allows the three readers - RF210R, RF220R and RF260R - to be installed very easily in machines and systems, thus adding an identification system to the specific application.

The Siemens Industry Sector (Erlangen, Germany) is the worldwide leading supplier of environmentally friendly production, transportation, building and lighting technologies. With end-to-end automation technology and industrial software, solid vertical-market expertise, and technology-based services, the Sector enhances its customers' productivity, efficiency, and flexibility. With a global workforce of more than 100,000 employees, the Industry Sector comprises the Divisions Industry Automation, Drive Technologies and Customer Services as well as the Business Unit Metals Technologies. For more information, visit http://www.siemens.com/industry

The Siemens Industry Automation Division (Nuremberg, Germany) supports the entire value chain of its industrial customers - from product design to production and services - with an unmatched combination of automation technology, industrial control technology, and industrial software. With its software solutions, the Division can shorten the time-to-market of new products by up to 50 percent. Industry Automation comprises five Business Units: Industrial Automation Systems, Control Components and Systems Engineering, Sensors and Communications, Siemens PLM Software, and Water Technologies. For more information, visit http://www.siemens.com/industryautomation

More from Electrical Equipment & Systems