RFID Reader/Writer works with compact flash enabled PDA.
Press Release Summary: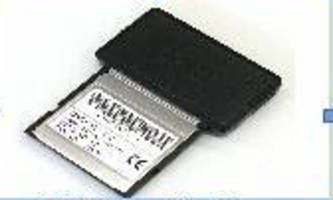 Designed to read and write Mifare MZF1 tags, GAO223001 operates at 13.56 MHz and is powered by CF type 1 connector from PDA. RFID reader/writer has built-in antennae, provides baud rate of 19,200 Bps, and supports maximum read distance of 3 cm. Suited for close proximity applications such as logistics, guard patrol tour, time and attendance, ticketing and access control, unit can be used as mobile checker when used with CF-enabled PDA.
---
Original Press Release:

GAO's 13.56MHz PDA Compact Flash (CF) RFID Reader/Writer



Toronto, Canada - GAO RFID Asset Tracking(www.GAORFIDAssetTracking.com) has launched its high frequency (HF) PDA CF RFID reader/writer(GAO223001) designed to read and write Mifare MZF1 tags. This CF device is commonly used for numerous close proximity applications such as logistics, guard patrol tour, time and attendance, ticketing and access control. The reader's small form factor allows it to be used as a mobile checker when used with a CF-enabled PDA.

This RFID reader/writer operates at 13.56MHz and is powered by the CF type 1 connector from a PDA. The portable CF RFID device has built-in antennae and provides a baud rate of 19200bps. reader/writer supports a maximum read distance of 3cm and features low power-consumption.

For further information on this HF PDA CF RFID reader/writer, please visit www.GAORFIDAssetTracking.com or contact Sales@GAORFIDAssetTracking.com.

About GAO RFID Asset Tracking

GAO RFID Asset Tracking is a leading provider of Radio Frequency Identification (RFID) hardware and solutions to end users worldwide. GAO RFID Asset Tracking combines best of breed with low cost RFID readers, RFID tags and enabling-RFID software. We have a wide variety of RFID readers, tags and antennas in all the RFID technologies, Low Frequency (LF), High Frequency (HF), Ultra High Frequency (UHF, Gen 2) as well as Active and Semi-Passive. GAO Asset Tracking's products and services are easily customized for use in Asset Tracking, Health care, Supply Chain & Logistics, Event Management, Access Control, Livestock Tracking, Inventory Control & Management, Field Service, Maintenance and Document Authentication.

For more information please visit www.GAORFIDAssetTracking.com

GAO RFID Asset Tracking is a member of GAO Group, which also includes

1. GAO RFID Inc. - www.GAORFID.com

2. GAO Tek Inc. - www.GAOTek.com

3. GAO Research Inc. - www.GAOResearch.com

4. GAO Embedded - www.GAOEmbedded.com

5. GAO Instruments - www.GAOInstruments.com

6. GAO Comm - www.GAOComm.com

7. GAO Fiber Optics - www.GAOFiberOptics.com

Company Name: GAO RFID Asset Tracking

Phone: 416-292-0038

More from Optics & Photonics