RFID Reader Card can identify 2,000 tags simultaneously.
Press Release Summary: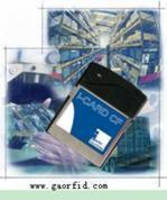 Providing data acquisition from laptop, handheld, or mobile computers, GAO227002 long-range interrogator Compact Flash (CF) RFID Card uses anti-collision algorithm to accurately transmit and receive information to and from RFID tags within reading zone of up to 300 ft. Featuring adjustable output power, device comes with software for processing data and tag communications. Drivers for application development are available for Windows CE/9x/NT/2000/XP and Linux.
---
Original Press Release:

Long-Distance UHF RFID Interrogator CF Card from GAO



Toronto, Canada - GAO RFID Inc. (www.GAORFID.com) has released a new version of its Compact Flash (CF) RFID Card (GAO227002). This new interrogator card uses an anti-collision algorithm to accurately transmit and receive information to and from a multitude of RFID tags within a reading zone of up to 300feet. It is a long-range interrogator with remarkable performance in identification, tracking and tracing, and localization of assets or people.

GAO's UHF RFID Interrogator CF Card provides for seamless data acquisition when used in a laptop, handheld or mobile computer. Built-in software enables processing of data, firmware updates and tag communications. Drivers for application development are available for Windows CE/9x/NT/ 2000/XP and Linux.

GAO's UHF RFID CF card provides the following features:

1. Adjustable output power, the communication range up to 100m (300feet)

2. Reliable identification of fast-moving objects.

3. 2,000 tags can be identified simultaneously

4. Different operating systems drivers for flexible and hardware-independent use.

5. With CF interface, existing handheld or mobile computers are easily integrated

For more information about GAO's UHF RFID Interrogator CF Card, please visit www.GAORFID.com contact: sales@GAORFID.com

About GAO RFID Inc.

GAO RFID Inc. is a leading provider of Radio Frequency Identification (RFID) hardware and solutions to end users worldwide. GAO RFID combines best of breed with low cost RFID readers, RFID tags and enabling-RFID software. We have a wide variety of RFID readers, tags and antennas in all the RFID technologies, Low Frequency (LF), High Frequency (HF), Ultra High Frequency (UHF, Gen 2) as well as Active and Semi-Passive. GAO RFID's products and services are easily customized for use in Asset Tracking, Health care, Supply Chain & Logistics, Event Management, Access Control, Livestock Tracking, Inventory Control & Management, Field Service, Maintenance and Document Authentication.

For more information please visit www.GAORFID.com

Related