RFID Memory Chip meets ATA Spec 2000 standards.
Press Release Summary: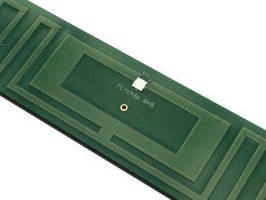 Intended for aircraft asset management, FLYchip64 UHF high-memory chip is fully compliant with ATA Spec 2000 and ISO18000-6C specifications for aircraft parts marking and inventory. Read range is 7 m and operating range is -66 to +302°F. Supporting UHF RFID C1-Gen2 - ISO/IEC 18000-6C protocol for communications at 860–960 MHz, chip offers 65,536 bits user memory, has 496-bits EPC and 208-bits tag identifier (TID), and features minimum operating power of -15 dBm (read).
---
Original Press Release:

MAINtag Introduces FLYchip64, the Highest-Performing RFID Memory Chip Meeting ATA Spec 2000 Standards



ATLANTA -- MAINtag, leading provider of aerospace flyable RFID chips and tags, has introduced FLYchip64, with an innovative UHF high-memory design that takes aircraft asset management to a new level of efficiency and safety.



FLYchip64, MAINtag's new UHF high-memory chip is fully compliant with ATA Spec 2000 and ISO18000-6C specifications for reliable and accurate aircraft parts marking and inventory. Retrofitting to create "smart" flyable parts is part of MAINtag's vision.



Impressive High-Memory Performance

Performance tests have shown that FLYchip64 operates with up to 7m read range (compared to maximum 2m with existing available options), outperforming the industry competition in high-memory range, with sensitivity that allows for up to four times the distance and reliability when using standard readers. All potential tag designs, including low profile metal compliant, dedicated to ATA spec 2000 high-memory, are now possible.



FLYchip64 Key Features



Ideally suited to ATA Spec 2000 Chap9.5 V4.0 latest version

Aerospace Extended Specification (-55°C + 150°C / -66°F + 302°F Atmospheric radiation)

UHF RFID C1-Gen2 - ISO/IEC 18000-6C protocol for communications at 860 - 960 MHz

GS1 EPC tag data standard Tds 1.7

65,536 bits user memory

496-bits EPC & 208-bits tag identifier (TID)

32-bits access password + 32-bits kill password to permanently disable the tag

BlockWrite, BlockErase and BlockPermalock function on 16 bits boundaries



What's New?

Minimum operating power (in reading): -15dBm; 4x better sensitivity than existing available high-memory chips makes it easy to design performing low- profile metal compliant tags.



Contact MAINtag to learn more about FLYtag® RFID solutions, or download the Solution Book at www.maintag.com



About MAINtag, Inc.

MAINtag, founded in 2004 for maintenance tagging, provides onboard aircraft solutions to more than 50 European and U.S. OEMs for the A350XWB. From the beginning, MAINtag sought to leverage RFID physics to ensure accuracy and performance of flyable ATA spec 2000 RFID tags, readers and dedicated software and services. MAINtag provides the aerospace and defense industries with reliable and secure products and services that support identification and traceability of flyable parts, ground service equipment and tooling in order to improve logistics, asset tracking and maintenance processes. MAINtag is AS9100 certified.



Media Contact:

Marcia Simon

+1 860-395-7244

Email

More from Sensors, Monitors & Transducers