RFID Handheld Reader/Writer operates at 13.56 MHz.
Press Release Summary: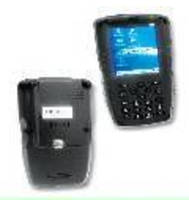 Powered by Intel® PXA255 processor, GAO243002 is used for collecting, managing, and transferring information. Portable device, designed for industrial and harsh outdoor environments, is built to IP54 industry standards and integrates 2.8 in. LCD touchscreen with backlight. Other features include 22-key keypad, audio control (output), SD slot, and IC card slot. Connectivity is fostered via contactless HF RFID, GPRS (900/1800/1,900 MHz), Bluetooth, and USB technologies.
---
Original Press Release:

13.56MHz (HF) RFID Handheld Reader/Writer from GAO



Toronto, Canada - GAO RFID Asset Tracking(www.GAORFIDAssetTracking.com) has added another rugged handheld RFID reader/writer (GAO243002) to its collection. This high frequency reader provides users with optimum performance for collecting, managing, and transferring information. The portable device is well-designed for industrial and harsh outdoor environments such as those found in field services, direct store delivery, warehouse or manufacturing applications.

This handheld RFID reader/writer is finished with a rugged industry standard housing yet remains light-weight and reasonably sized, thus it allows optimum performance even in harsh environments. It includes an LCD touch screen, 22 key interfaces, audio control (output), SD slot, IC card slot, contactless HF RFID, GPRS (900/1800/1900MHz), Bluetooth and USB connectivity.

For more information on the HF RFID handheld reader/writer, please visit www.GAORFIDAssetTracking.com or contact Sales@GAORFIDAssetTracking.com.

About GAO RFID Asset Tracking
GAO RFID Asset Tracking is a leading provider of Radio Frequency Identification (RFID) hardware and solutions to end users worldwide. GAO RFID Asset Tracking combines best of breed with low cost RFID readers, RFID tags and enabling-RFID software. We have a wide variety of RFID readers, tags and antennas in all the RFID technologies, Low Frequency (LF), High Frequency (HF), Ultra High Frequency (UHF, Gen 2) as well as Active and Semi-Passive. GAO Asset Tracking's products and services are easily customized for use in Asset Tracking, Health care, Supply Chain & Logistics, Event Management, Access Control, Livestock Tracking, Inventory Control & Management,Field Service, Maintenance and Document Authentication.

For more information please visit www.GAORFIDAssetTracking.com

GAO RFID Asset Tracking is a member of GAO Group, which also includes
1. GAO RFID Inc. - www.GAORFID.com
2. GAO Tek Inc. - www.GAOTek.com
3. GAO Research Inc. - www.GAOResearch.com
4. GAO Embedded - www.GAOEmbedded.com
5. GAO Instruments - www.GAOInstruments.com
6. GAO Comm - www.GAOComm.com
7. GAO Fiber Optics - www.GAOFiberOptics.com

More from Controls & Controllers