RFID Decal provides pertinent vehicle information.
Press Release Summary: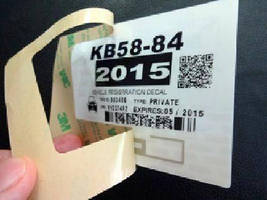 With ASTRIA™ RFID-enabled 3rd License Plate/Vehicle Registration Decal, full color graphics can be printed on both adhesive and non-adhesive side. PRINT & PROGRAM™ feature allows variable data for vehicle and its owner to be updated and then to be seen and read from outside vehicle. Information can be printed and encoded in RFID chip, human readable fonts, and barcodes on adhesive side of decal. For security, decal features non-removable/non-transferable construction on RFID transponder portion.
---
Original Press Release:

Star RFID & Systems Group Introduces New RFID "3rd License Plate" Decal



Revolutionary ASTRIA™ Provides Features and Flexibility Not Previously Available In RFID Registration Decals for Vehicles



HONG KONG, – The STAR RFID & SYSTEMS GROUP, manufacturers and suppliers of RFID hardware, tags and professional services, today introduced its new ASTRIA™, RFID-enabled 3rd License Plate / Vehicle Registration Decal.



The new ASTRIA™ decal is a revolutionary design for RFID decals for use in vehicle applications. It provides high performance and security in a RFID Registration Decal or 3rd License Plate, while at the same time, allowing local providers of the decal to securely print and program all pertinent vehicle information in a single pass, "on-demand," at their points of distribution.



The ASTRIA™'s unique and special construction enables high quality, full color graphics to be printed on both the adhesive and non-adhesive sides of the decal. This, along with ASTRIA™'s new PRINT & PROGRAM™ feature, allows variable data for the vehicle and its owner to be easily updated and then to be seen and read from outside the vehicle. The information can be printed and encoded in the RFID chip, human readable fonts and bar codes on the adhesive side of the decal.



"For years, users have been seeking a safe, secure and efficient way to print and program RFID vehicle decals," said Stephen Lockhart, CTO of STAR Systems International. "The challenge has been to integrate bar codes, RFID and variable data in such a way as to allow for reading of the information from the outside of the vehicle, while the decal is installed on the inside. The new ASTRIA™ RFID decal provides this feature and more."



The ASTRIA™ has added security with STAR's unique non-removable/non-transferable construction on the RFID transponder portion of the decal. It also offers optional, customized invisible UV ink print patterns to prevent moving or falsification of decals.



The ASTRIA™ incorporates STAR's proven Venus™ antenna, which is a high performance transponder designed specifically for use on vehicle glass and is fully compliant with ISO 18000 6C standards. The Venus™ transponder is also Omniair tested and certified for performance and interoperability in vehicle applications such as tolling, registration and secure access systems.



About the STAR RFID & SYSTEMS GROUP

STAR Systems International and STAR RFID form the STAR RFID & SYSTEMS GROUP. Star Systems International is a Hong Kong-based RFID hardware, tag and services provider, specializing in UHF RFID-enabled vehicle identification and supply chain management applications. Working through an extensive network of value added resellers and systems integrators, STAR Systems provides a wide range of RFID hardware, professional consulting services and technical support. STAR-RFID, a leading manufacturer of RFID inlays, tags, decals and labels is located in Bangkok, Thailand. For more information on STAR Systems and/or STAR RFID, visit www.star-int.net or www.star-rfid.com.



Media Contacts:



STAR RFID & SYSTEMS GROUP:

Ava Tang

Director

Hong Kong - +852 3691 9925

More from Communication Systems & Equipment