RFID Controller has read range of up to 100 mm.
Press Release Summary: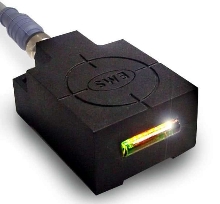 High-frequency HF-0405 controller has compact design with integrated antenna and can read multiple tag protocols operating at 13.56 MHz. It handles data capture in material handling and work-in-progress applications and has IP67 NEMA rating. Three models are available: HF-0405-232-01, HF-0405-422-01, and HF-0405-485-01. Model GWY-01-TCP-01 Gateway creates multi-drop network of controllers with HF-0405-485-01.
---
Original Press Release:

High-Frequency, Multi-protocol RFID Controller


Escort Memory Systems (EMS) is proud to announce the release of the first High-Frequency, Multi-protocol RFID Controller; the HF-0405. The HF-0405 features include a compact design with an integrated antenna and the ability to read multiple tag protocols operating at 13.56MHz. This controller reads EMS' HMS and LRP series tags (ISO14443A/B, ISO15693, and ICODE) with a read range of up to 100mm.

The HF-0405 is a compact 40 X 50mm controller with 8-LEDs. These brightly lit LEDs indicate the reader's communication status and address on the network. This controller is perfect for data capture in Material Handling and Work-in-Progress applications. The HF-0405's IP67 NEMA rating makes it ideal for Food Processing, Meat Processing, Automotive, Pharmaceutical and Electronic industries. The controller's M12 style connector provides quick connectivity for power and data communication. The controller comes with a mounting bracket which allows easy installation in tight corners or alongside conveyers.

The HF-0405 is available in three models: HF-0405-232-01 (RS232); HF-0405-422-01 (RS422) and HF-0405-485-01 (RS485 with multi-drop functionality).

EMS is also proud to introduce the GWY-01-TCP-01 (Gateway). The Gateway is used with the HF-0405-485-01 to create a multi-drop network of controllers. Each Gateway supports up to 16 controllers in 'Subnet16'(TM) architecture. One important feature of the Gateway is the Ethernet output to the host PC or PLC. Users can communicate directly to each individual controller on the network through the Gateway using TCP/IP protocol. Connectivity to the network using TCP/IP allows real-time visibility of the network for remote diagnostics and firmware upgrades.

For more information about the HF-0405 and the Gateway contact your local EMS Sales Engineer or write to us at [email protected].

About EMS

EMS has over twenty years of experience in RFID. EMS RFID installations have been field-proven in supply chain applications covering all aspects of Manufacturing, Logistics Retail and After Sales Support. Fortune 500 companies continue to rely upon EMS for "Best in Class" and cost effective RFID solutions. At EMS, we make RFID work.

Christian Huff
Marketing Specialist
Escort Memory Systems
www.ems-rfid.com

For more information contact:
Suresh Palliparambil
Director of Marketing
Escort Memory Systems
Phone: (831) 438-7000
Fax: (831) 438-5768
Email: [email protected]
http://www.ems-rfid.com