RFIC Assembly/Test Services suit commerical/defense markets.
Press Release Summary: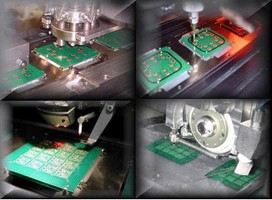 Radio Frequency Integrated Circuit (RFIC) services include design, manufacture, and testing of RFIC multi-chip modules for ceramic, BGA, LGA, and chip scale devices. Process capabilities for RFIC assembly and packaging include auto epoxy and eutectic die attach, auto ball and wedge bonding, and low volume SMT (0201 placement). Design, manufacture, and test competencies include test interface development, test automation and data analysis, and process engineering.
---
Original Press Release:

M/A COM Launches RFIC Assembly and Testing Services for Commerical and Defense Markets



New Radio Frequency Integrated Circuit (RFIC) Service Offers Domestic Assembly and Testing for Multi-Chip Modules and Ceramic, BGA, LGA and Chip Scale Devices

LOWELL, Mass., April 11, 2006 - M/A-COM, a business unit of Tyco Electronics and a leading provider of wireless radio frequency (RF), microwave and millimeter wave components, today announced the Radio Frequency Integrated Circuit (RFIC) assembly and testing service targeted towards commercial and defense applications and manufacturers. Based in the company's Lowell, Massachusetts facility, M/A-COM's reduced time-to-market assembly and testing services include the design, manufacture and test of RFIC multi-chip modules for ceramic, ball grid array (BGA), land grid array (LGA) and chip scale devices.

From prototype to production, M/A-COM offers the following process capabilities for RFIC assembly and packaging:

· Auto epoxy and eutectic die attach

· Auto ball and wedge bonding

· Low volume SMT (0201 placement)

· Eutectic and B-stage lid seal

· Fine and gross leak testing

· Auto liquid encapsulation

· Laser mark and auto scribe

· Auto solder ball attach

· Auto saw and trim & form

· Auto test

· Environmental screening

M/A-COM also offers the following design, manufacture and test competencies:

· Process engineering

· Mechanical/tooling design (2D & 3D)

· Packaging design

· NPD and quick-turn prototyping (TTM)

· Continuous improvement (Six Sigma)

· Test interface development

· Test automation and data analysis

· Supporting high volume and high mix

M/A-COM, Inc., a business unit of Tyco Electronics, is an established industry leader in the design, development and manufacture of radio frequency (RF), microwave and millimeter wave semiconductors, components and technologies for the wireless telecommunications, automotive, aerospace and military industries. Holding hundreds of patents in the field, M/A-COM is internationally known as an innovator and integrator whose technologies are found in some of today's most advanced signal intelligence and defense systems, as well as in leading automotive navigation, safety, and communications solutions. M/A-COM is also a major supplier of critical communications systems and equipment for public safety, utility, federal and select commercial markets. Headquartered in Lowell, MA, M/A-COM has offices and manufacturing facilities worldwide. Information about M/A-COM can be found on the Web at www.macom.com, a complete, updated listing of all of M/A-COM's RoHS compliant parts is available on the Web at www.macom.com/rohs.

Tyco Electronics, a business segment of Tyco International Ltd., is the world's largest passive electronic components manufacturer; a leader in cutting-edge wireless components, complete power systems, and premise wiring components and systems; and a provider of critical communications systems to the Land Mobile Radio industry. Tyco Electronics provides advanced technology products from over forty well-known and respected brands, including Agastat, Alcoswitch, AMP, AMP NETCONNECT, Buchanan, CII, CoEv, Critchley, Elcon, Elo TouchSystems, M/A-COM, Madison Cable, OEG, Potter & Brumfield, Raychem, Schrack and Simel. For more information, visit tycoelectronics.comhttp://www.tycoelectronics.com/.

· M/A-COM and Tyco are trademarks.

· Other products, logos and Company names mentioned herein may be trademarks of their respective owners.

For sales information, please contact:

M/A-COM, Inc.
1011 Pawtucket Blvd.
Lowell, MA 01853
Americas -- 1-800-366-2266
Europe/Middle East/Africa -- +44 1908-574-200
Asia/Pacific -- 81-44-844-8296

Pat Hindle
M/A-COM, Inc.
978/442-4825
hindlep@tycoelectronics.com

Mike Ratcliff
Tyco Electronics
717/592-2316
mike.ratcliff@tycoelectronics.com

More from Test & Measurement