RF Wireless Modules target mobile phone applications.
Press Release Summary: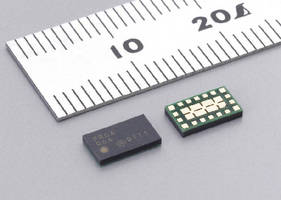 Comprising SAW filter, power amplifier, and magnetic stabilizer in single 6.6 x 3.8 x 1.0 mm package, HFQPRAPCA Series supports Bands 5, 1, 25, and 13. Magnetic stabilizer, providing same function as isolator, enables modules to remain stable by controlling characteristics of load fluctuation caused by changes in impedance that can occur when user's hand, metal object, or other materials come close to antenna.
---
Original Press Release:

Murata Launches combined SAW Filter, Power Amplifier and Magnetic Stabilizer Module for Mobile Phone Applications



Hoofddorp, Netherlands: Murata today announced the HFQPRAPCA series of RF wireless modules designed specifically for mobile phone applications and comprising a SAW filter, power amplifier and magnetic stabilizer. Believed to be the world's first module to combine the three components as a single package, it measures just 6.6 x 3.8 x 1.0 mm and aids cellular phone engineers achieve a more integrated and compact design.

The magnetic stabilizer, that provides the same function as an isolator, aids the modules ability to be very stable under fluctuating load conditions. Its load-resistant element is a magnet used as an isolator. It controls the characteristics of load fluctuation caused by changes in impedance that can occur when the user's hand, metal object or other materials come close to the antenna.

With the growing numbers of frequency bands supporting 3G networks, mobile phone manufacturers have found it increasingly difficult to achieve a compact design. Murata Manufacturing designed the single package module to meet the designer's need for a compact integrated module that does not need matching.

The HFQPRAPCA series is available to support the following bands; Band 5 (BC0), Band 1 (BC6), Band 25 (BC14) and Band 13. Further frequency bands will be supported in the future.

About Murata

Murata is a leading manufacturer of electronic components, modules, and devices. The complete range of this Ceramics Technology house includes ceramic capacitors, resistors/thermistors, inductors/chokes, ceramic resonators, buzzers, sensors and EMI suppression filters. Whilst the company gets 40% of its revenue from its ceramic capacitor products, it is also the world leader in Bluetooth & WiFi Modules, and a key manufacturer of power supplies. Murata also designs and manufactures mobile handset antenna families, piezoelectric actuators for fuel injection systems, short focal length ceramic lenses and speaker products.

Established in 1944, Murata is headquartered in Japan and has European offices in Germany, the Netherlands, the UK, Switzerland, Italy, France, Spain, Denmark, Sweden, Finland and Hungary.

For more information on Murata, please visit: www.murata.eu. You can also follow us on Twitter @MurataEurope or LinkedIn www.linkedin.com/company/murata-electronics, or join us on Facebook at http://www.facebook.com/MurataElectronics.

More from Agricultural & Farming Products