RF Wireless Modules offers high output power, data rates.
Press Release Summary: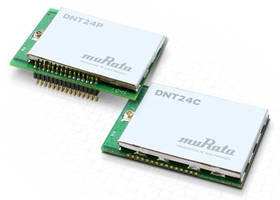 Suited for industrial, and medical applications, DNT Series incorporates frequency hopping spread spectrum (FHSS) for optimized interference immunity. Ranges cover up to 40 miles for 900 MHz installations and 10 miles for 2.4 GHz line of sight. Configurable with RF data rates up to 500 kbps in both 900 MHz and 2.4 GHz bands, modules also include DNT gateway and separate and secure LANs with 128-bit AES encryption. Meshing topology reduces required number of repeaters and gateways.
---
Original Press Release:

RF Wireless Modules Deliver High Output Power, Increased Data Rates



DNT Series developed for industrial, and medical applications



Smyrna, GA – Murata Americas today announced the availability of its DNT Series. This class of wireless modules is superior in performance and offered at a lower price-point for applications in need of greater range and lower latency.  The series also enables a decreased total cost of ownership because it helps to minimize the necessary infrastructure equipment.  Further, it incorporates frequency hopping spread spectrum (FHSS) to deliver better immunity to interference, which is critical in the more crowded bands such as 2.4 GHz WiFi®.



DNT products provide longer ranges for outdoor functions, up to 40 miles for 900 MHz installations and 10 miles for 2.4 GHz line of sight, making them ideal for street-lighting, SCADA, commercial drones and agriculture applications. This line is configurable with high RF data rates – up to 500 kbps in both 900 MHz and 2.4GHz bands for data intensive applications in need of lower latency.  Additionally, a DNT gateway and separate and secure LANs with 128-bit AES encryption help streamline facilitation with local enterprise networks.  Finally, the series incorporates a meshing topology that reduces the total cost of ownership by limiting the number of repeaters and gateways needed.



"By basing the DNT Series on Murata's propriety FHSS, we created a solution that provides increased resistance to multi-path fading. This line enables exceptional RF link quality and superior immunity to in-band interference, making it especially well-suited to industrial and factory environments," said Jim Philipp, Senior Marketing Manager, Murata Americas RF Product Department.



Product samples are available through distributors. More information can be found at www.murata.com.



About Murata

Murata Manufacturing Co., Ltd. is a worldwide leader in the design, manufacture and sale of ceramic-based passive electronic components & solutions, communication modules and power supply modules. Murata is committed to the development of advanced electronic materials and leading edge, multi-functional, high-density modules. The company has employees and manufacturing facilities throughout the world. For more information, visit Murata's website at www.murata.com.



Amy Talley

Jefferson Communications

atalley@jeffersoncomm.com

T: 703.323.8939

C: 703.395.5143

www.jeffersoncomm.com