RF Transceiver IC targets low power sub-GHz applications.
Press Release Summary: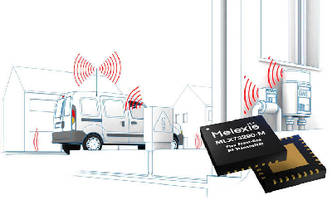 Addressing sub-GHz ISM bands from 300–960 MHz, Model MLX73290-M delivers 2 RF channels, each with programmable RF power transmitter and highly sensitive RF receiver. Output power level ranges from -20 to 13 dBm, while receiver sensitivity can attain -120 dBm in 15 kHz bandwidth. Max data rate of 250 kbps enables heightened data throughputs. Supplied in 5 x 5 mm 32-lead QFN package, IC operates from -40 to 105°C and is fully programmable via serial peripheral interface.
---
Original Press Release:

Melexis' Programmable Multi-Channel RF Transceiver Targets Low Power Sub-GHz Applications



With built-in features such as dual-channel transmit/receive front-end, energy harvesting interface & transmit power detectors



Tessenderlo, Belgium, – Melexis, a global microelectronics engineering company, has introduced the MLX73290-M. This multi-channel RF transceiver IC draws on the company's long-established technical expertise in low power wireless implementation. Addressing the sub-GHz ISM bands from 300MHz through to 960MHz, the product delivers two RF channels, each with a programmable RF power transmitter and a highly sensitive RF receiver. It is fully programmable via its serial peripheral interface (SPI).



This IC is highly suited to sub-GHz wireless applications like home/building automation, tire pressure monitoring (TPMS), automatic meter reading (AMR), alarm systems, passive keyless entry (PKE), medical diagnostics and telemetry. Its output power level ranges from -20dBm to 13dBm while its receiver sensitivity can attain -120dBm in a 15kHz bandwidth. With a maximum data rate of 250kbps, the transceiver is also capable of handling heightened data throughputs. Thanks to the high degree of programmability, engineers employing this IC are presented with plenty of scope when it comes to configuring and implementing an RF front-end. A wide variety of different RF parameters can be adjusted (number of channels, frequency resolution, output, frequency deviation, etc.), in order to satisfy specific application criteria. On-off keying (OOK), binary frequency shift keying (FSK), minimum shift keying (MSK), Gaussian minimum shift keying (GMSK) and Gaussian frequency shift keying (GFSK) modulation schemes are supported.



Two RF power detectors provide augmentation of radiated power performance during transmission. An energy harvesting interface allows battery-less power supply by using a solar cell in combination with a super capacitor. This accentuates its value in remote locations where power lines are impractical. Evaluation boards and software tools are also available.



The MLX73290-M is supplied in 5mm x 5mm 32-lead QFN package. It has an operational temperature range of -40°C to 105°C. For more information go to: www.melexis.com/MLX73290-M.



About Melexis

Melexis designs, develops, tests and markets advanced integrated semiconductor products. Our devices meet the world's growing demand for greener and safer cars that are fun to drive, smarter appliances and more conscious buildings. We supply unique sensor and driver chips, communicating with analog, digital, wired or wireless interfaces, enhanced with advanced on board microcontrollers or DSP capabilities. Our core experience is derived from over 25 years supplying leading-edge and innovative ICs to the automotive electronics market, expanding in other application fields such as smart appliances and building automation. Melexis is proud to partner with our customers to engineer the sustainable future.



Melexis' portfolio is built around three pillars: Sensing, Driving and Communicating. Sensors include magnetic, MEMs, and sensor interface ICs; optoelectronic single point and linear array sensors; infrared thermometers, CMOS wide dynamic range, Time of Flight and night vision cameras. Driver ICs cover Advanced DC & BLDC motor controllers and FET Pre-driver ICs. Communication ICs serve RKE, TPMS, ISM band applications, NFC, RFID reader and smart tag solutions.



Contact Melexis

Marketing Communications

Liesbet Stalmans

Melexis

Transportstraat 1.

3980 Tessenderlo

Belgium

Tel: +32 13 670 795

Fax: +32 13 672 134

lst@melexis.com

More from Software