RF Synthesizer targets wireless infrastructure applications.
Press Release Summary: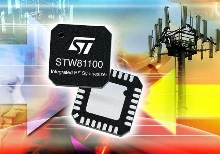 Model STW81100 is a multi-band, integrated RF synthesizer featuring 2 voltage-controlled oscillators with low phase noise performance and noise floor of -153 dBc/Hz. It offers single-chip alternative to discrete PLL and VCO solutions, which typically require 2 chips. Combination of wide frequency-range VCOs and multiple output options, including direct output, divided by 2, or divided by 4, allows synthesizer to cover 820-1,100, 1,640-2,200, and 3,280-4,400 MHz bands.
---
Original Press Release:

Reduce RF BOM and Footprint by up to 60% with STMicroelectronics' Newest RF Synthesizer with Embedded VCOs


"Aimed at wireless infrastructure applications, the device allows lower cost and smaller footprint while increasing reliability for RF designers who want to manage synthesizers"

Geneva, May 9, 2005 - STMicroelectronics (NYSE:STM) has today announced the STW81100 - Multi-band RF Synthesizer with Embedded VCOs (voltage controlled oscillators). Specifically, by leveraging ST's strong expertise in RF design and utilizing ST's world class BICMOS SiGe technology, ST designers were able to produce an integrated product that enables a lower bill of materials and uses a smaller footprint. This new product is the first in a series of highly integrated RF solutions integrating PLL and VCOs.

The STW81100 is a multi-band integrated RF synthesizer with voltage-controlled oscillators (VCOs) for wireless communication and test equipment systems. Demonstrating high performance, high integration, low power, and multi-band capabilities, the STW81100 is a low-cost single-chip alternative to discrete PLL and VCO solutions which typically require two chips and are usually bulky and expensive. In addition, the device also leads to an indirect cost reduction as a one-chip approach increases reliability, reduces board space, reduces the number of external discrete components, simplifies sourcing, making it an overall more cost-effective solution.

The STW81100 includes an Integer -N frequency synthesizer and two fully integrated VCOs which feature low phase noise performance and a noise floor of -153dBc/Hz. The combination of wide frequency-range VCOs (thanks to center-frequency calibration over 32 sub-bands) and multiple output options (direct output, divided by 2, or divided by 4) allows the synthesizer to cover the 820MHz-1100MHz, the 1640MHz-2200MHz and the 3280MHz-4400MHz bands. The STW81100 is also available as an IP cell, expanding ST's RF ASIC intellectual property (IP) portfolio.

"ST's tremendous RF capabilities and market leadership from handsets to infrastructure has translated into a family of products addressing the two main concerns from manufacturers today: lower BOM and smaller footprint," said Guillaume Pertinant, RF Technical Marketing Manager of ST's Wireless Infrastructure Division.

In the Wireless Infrastructure market ST has introduced recently the STW51000, a high-performance baseband modem digital SoC, and STW21000, a highly integrated and reconfigurable microcontroller with embedded DRAM. In addition to the digital SoCs, heavy investment in this market has also enabled ST to focus on the key aspects of the transceiver. By offering RF solutions that enhance the ST Wireless Infrastructure portfolio, ST further strengthens an already solid position as one of the only semiconductor companies supplying complete signal-chain solutions.

The STW81100 is supplied in a 28-lead exposed QFN lead free package. Sample devices and evaluation boards are available today. Volume production will start mid-2005 at a cost of $3.00 in 10,000 units.

About ST's Wireless Portfolio
As one of the leading manufacturers of wireless semiconductors in the world, ST is delivering solutions that address the needs of next-generation multimedia devices. ST is the #2 supplier of RF transceivers worldwide. As a total solutions provider for multimedia and wireless products, ST's wireless portfolio provides the silicon, software, reference platforms, and support needed to develop all parts of the wireless spectrum, from handset to base station. ST not only leads the way for communications standards, but provides industry innovation for such technologies as GSM, UMTS, Wi-Fi, Bluetooth, and Ultra Wideband along with CMOS cameras, flash memory, and other complimentary technologies. In addition, with ST's family of Nomadik(TM) application processors at the center of your product, ST's products truly are the HUB for mobile multimedia devices.

About STMicroelectronics
STMicroelectronics is a global leader in developing and delivering semiconductor solutions across the spectrum of microelectronics applications. An unrivalled combination of silicon and system expertise, manufacturing strength, Intellectual Property (IP) portfolio and strategic partners positions the Company at the forefront of System-on-Chip (SoC) technology and its products play a key role in enabling today's convergence markets. The Company's shares are traded on the New York Stock Exchange, on Euronext Paris and on the Milan Stock Exchange. In 2004, the Company's net revenues were $8.76 billion and net earnings were $601 million. Further information on ST can be found at www.st.com.

More from Communication Systems & Equipment