RF Shielded Enclosures Now Available for Rent from Select Fabricators, Inc.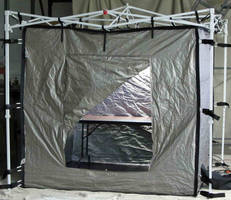 Select Fabricators, a major provider of RF shielded enclosures to the electronics test, electronics security and wireless industries, announces a new rental program.

Dateline & Lead: Canandaigua, NY - Select Fabricators, Inc. realizing that test labs and agencies need RF shielded enclosures for temporary and/or time-critical testing has established a rental program for its SFi RF Shielded Enclosure Systems.

Body:

Renting an RF shielded enclosure from Select Fabricators, Inc. is the latest solution for electronic test, electronic security and wireless organizations for

o Just in Time Testing

o Pre-Test Evaluation

o Short Duration Testing

These RF shielded enclosures are made in the USA with double-wall, durable, lightweight Silver/Copper/Nickel conductive fabric. SFi's portable units use Faraday cage shielding principles that reduce the level of radio frequency (RF) signals entering or leaving the structure.



Frequency	Attenuation (dB)

150 KHz		-67

400 MHz		-86

1 GHz		-88

10 GHz		-83



(IEEE Std 299 Modified Average Shielding Double Wall Enclosure with ESD liner)

SFi's RF Shielded Enclosures can be rented on a monthly basis with a rebate offered on purchase within a year. Three RF Shielded enclosures sizes are available for rent in the program:

o 7' x 7' x 6.5'

o 4' x 4' x 7'

o 3' x 2' x 2'

Complete specifications and rental information is available from Select Fabricators' website: www.select-fabricators.com. Select Fabricators, Inc. manufactures RF/EMI shielded enclosures, flexible packaging and cleanroom assemblies as well as contract product assembly and fulfillment for the electronics, wireless, aerospace and defense industries.

Contact Information:

Contact: Dan Ramich or Brian Smith

contactus@select-fabricators.com

+1 888 599 6113 (Toll Free)

+1 585 393 0650


More from Software