RF Modem transmits wireless data up to 40 miles.
Press Release Summary: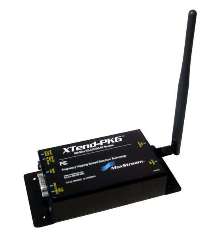 Model 9XTend-PKG-R features AES 256-bit encryption and frequency hopping on 50 channels to ensure data remains secure. RS-232/485 interface allows user to connect to variety of electronic devices, while software selectable settings allow user to customize power output level and data interface rate. One Watt modem offers sustainable data rate of 115.2 kbps, can send intermittent data packets up to 230.4 kbps, and features sensitivity level of -110 dBm.
---
Original Press Release:
MaxStream's One Watt RF Modem Transmits Wireless Data up to 40 Miles

LINDON, Utah - October 29, 2004 - Capable of sending wireless information as far as 40-miles away, MaxStream's new 9XTend-PKG-R offers instant long-range communications for wireless data applications. One Watt of conducted power transmitted to the antenna allows for an output from the RF modem up to 4 Watts EIRP with a 6 dBi antenna. Features like AES 256-bit encryption and frequency hopping on 50 channels ensure data remains secure, while an RS-232/485 interface allows users to instantly connect to a variety of electronic devices.

"This innovation in wireless technology is advantageous to a variety of markets that want to easily send data long distances," said Brad Walters, President and CEO of MaxStream. "Now doing things like monitoring pipelines, connecting electronic displays and networking point-of-sale equipment has never been more efficient and cost-effective. The uses for the 9XTend are everywhere because the need to connect RS-232 enabled devices is found in so many applications."

With ranges of more than one-half mile in urban environments and up to 40-miles line-of-sight with a high gain antenna, the 9XTend doubles the range capabilities of MaxStream wireless networks. Software selectable settings allow users to customize both the power output level and the data interface rate. This permits the 9XTend to conserve energy by using the desired power output level for each situation. The 9XTend has a sustainable data rate of 115.2 kbps and can send intermittent data packets up to 230.4 kbps.

Well above the industry average of -93 dBm, the 9XTend has a sensitivity level of -110 dBm. Adding a 3 dBi omni-directional antenna increases the output power to 2 Watts EIRP. This effectively doubles the range of point-to-multipoint networks and in many instances avoids the need to transmit line-of-sight.

Housed in a durable aluminum casing, the 9XTend-PKG-R includes a dip-switch that makes it simple to select either an RS-232 or RS-485 connection. The stand-alone 9XTend RF modem sells for $299 with volume discounts available.

MaxStream creates wireless data solutions for OEMs and systems integrators. Whether designing an embedded system or simply adding wireless to a legacy system, MaxStream's wireless technology solves the world's data transmission needs. For more detailed specifications and information on the 9XTend-PKG-R, email MaxStream's sales department at sales@maxstream.net.

About MaxStream, Inc.

MaxStream is the leading worldwide developer of wireless modem networking for electronic devices. MaxStream provides wireless modem modules, stand-alone radio modems, RF design services, and supporting software. Products and services by MaxStream include designing, manufacturing and supporting wireless communications for embedded systems. For more information regarding MaxStream's products and services, contact MaxStream, Inc. at www.maxstream.net, info@maxstream.net or call (866) 765-9885.

MaxStream, XTend, 9XTend, 9XTend-PKG-R, and XII are trademarks of MaxStream, Incorporated. All other products, services, companies and publications are trademarks or registered trademarks of their respective owners.
More from Laboratory and Research Supplies and Equipment