RF/Microwave Assembly Services accelerate manufacturing.
Press Release Summary: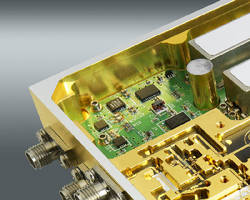 With fully automatic, epoxy dispense system and fully automatic, wire bonder capable of wedge, ball, and ribbon bonding, SemiGen, Inc. offers RF/Microwave design and automated assembly services. Consulting services for manufacture of RF, microwave, and millimeter-wave circuits and assemblies, with particular focus in mixed RF/digital assembly, including microcontrollers, is provided. SemiGen can source, manufacture, encapsulate, singulate, and automatically test customers' designs.
---
Original Press Release:

SemiGen's Full-Service RF/Microwave Assembly Smooths Out and Speeds up Manufacturing



Manchester, NH — SemiGen, Inc. (www.semigen.net), an ISO and ITAR registered RF/Microwave assembly, automated PCB manufacturing, and RF Supply Center, is announcing their full-service, high-quality, RF/Microwave design and automated assembly services as a viable option for companies looking to reduce assembly cost while keeping their production domestic.



SemiGen provides expertise and experience in the manufacturing of RF, microwave, and millimeter-wave circuits and assemblies, with particular expertise in mixed RF/digital assembly—including microcontrollers.



With a focus on smoothing out and speeding up the manufacturing process, SemiGen has recently added a suite of new automated assembly equipment to increase their manufacturing capacity. SemiGen has added a new, fully automatic, epoxy dispense system from Camalot and a new, fully automatic, wire bonder from Westbond, capable of wedge, ball and ribbon bonding. This equipment will be in line with their fully automatic MRSI for eutectic die attach. The company's highly trained, certified assemblers are experts in advanced manufacturing techniques for the highly specialized RF/Microwave market.



"The selection of the right automated equipment is key in being able to have diversity and capability for RF assemblies," said Jim Morgan, President of SemiGen. "This new production capability will allow SemiGen to enter the chip-on-board market and address assemblies designed in multi-arrays in thick film, thin film and standard board materials. SemiGen can now source, manufacture, encapsulate, singulate, and automatically test customers' higher volume designs with ease."



SemiGen specializes in unique RF and digital manufacturing challenges— design, test, prototype, production and repair. They offer a full-service solution for small- to high-volume manufacturers who assemble the more straightforward to the most complex integrated assemblies. To review SemiGen's suite of services and supplies, request a quote, shop, or place an order, please visit www.semigen.net or call 603-624-8311.



About SemiGen, Inc.

Established in 2009, SemiGen is a contract manufacturing and supply resource for RF/Microwave and PCB related industries. Services include RF hybrid assembly, semiconductor die packaging, automated PCB manufacturing and testing. They're also a fully stocked provider of RF/Microwave bonding supplies and critical diodes and components. Partnering with SemiGen allows component and subsystem suppliers opportunities to reduce manufacturing costs and meet challenging deadlines. Serving the military electronics, commercial device, and medical instrumentation markets, their production line and test department is capable of handling prototype through high volume requirements up through 50 GHz. For more details, visit www.semigen.net



Company Contact:

Jim Morgan

SemiGen, Inc.

jmorgan@semigen.net

603-624-8311

More from Optics & Photonics