RF Level Switches are immune to build-up.
Press Release Summary: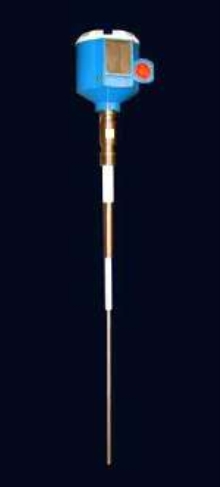 ShieldPoint(TM) RF Capacitance Switches provide point level detection in applications ranging from sticky slurries to low dielectric bulk solids. Single-point ShieldPoint 300 features 3-element shielded probes and 10 A DPDT relay, while multi-point ShieldPoint 400 offers variety of probe options, Teflon® coated or bare rods and cables, along with 2 SPDT 10 A relays. Both are housed in aluminum enclosure with LED indicators for operation and calibration.
---
Original Press Release:

ASI Instruments Announces ShieldPoint(TM) -- Affordable RF Level Switches Immune to Build-up in Bulk Solids or Slurry Applications



Level detection devices feature one-step, external calibration

Houston, TX (May 2, 2005) - ASI Instruments, a leading manufacturer of state-of -the-art instrumentation for level detection and measurement of dry bulk solids, today announced the ShieldPoint(TM) series of RF (Radio Frequency) capacitance switches. Built for point level detection in a wide variety of challenging applications, from sticky slurries to low dielectric bulk solids, ShieldPoint's rugged probe designs mean there are no moving parts to wear out. The series features LED operation and calibration lights, visible through its standard window cover, with an "Out-of Calibration" indication. The ShieldPoint's modular electronics are built around ASI's patented ASHIELD(TM) technology which provides immunity to material build-up, thus ensuring reliable and repeatable operation.

The ShieldPoint 300 is a single-point level switch featuring 3-element shielded probes and a 10 amp DPDT relay. The ShieldPoint 400 is a multi-point switch with a variety of probe options, including a 3-element probe, Teflon coated or bare rods and cables, along with 2 SPDT 10 amp relays. The ShieldPoint 400 allows a choice of three operating modes - single setpoint, dual setpoint, and pump control. The dual setpoint function means the unit can be used to replace two single point switches for the cost of one.

"RF capacitance switching is a time tested technology," said Robert Hotard, Product Manager for Radar and RF products at ASI Instruments. "The ShieldPoint series adds to that with an easy-to-use calibration process and the industry's largest selection of rugged probe designs. You could say we took what was already a good wheel design and put a better set of tires on it."

Rugged & Easy to Calibrate
ShieldPoint features a simple, one-step calibration process that uses an external magnet. With the LED indicator lamps, visible through the glass window cover, adjustments such as calibration, sensitivity, and time delay can be made while maintaining the explosion-proof integrity of the switch. The "Out-of-Calibration" warning lets the user know when build-up is present on the probe and recalibration may be needed.

The ShieldPoint300 and ShieldPoint400 are housed in single compartment, powder-coated aluminum enclosures. Stainless steel enclosures are also available for corrosive applications where aluminum may not stand up to the elements. For hard to access installations, a remote mounting option with a range up to 200 feet provides user friendly flexibility. For increased protection, dual-compartment housings allow users to isolate wiring and terminations from internal electronics.

Wide Variety of Probes
The ShieldPoint family includes a wide variety of versatile probe elements, including a number of specialized options:
Standard probes for multi-purpose applications
Stub or Bent probes for small hoppers and vessels
Flexible or Rigid Tip Extensions for increased range
Cable probes for ranges up to 150 feet (45 meters)
Custom Pipe Extensions are available for deep tanks or vessels for low-level switching, up to 20 feet (6.1 meters).

Unique rolled seals lock all elements of the probe in position and ensure no part of the probe can fall into the process or be blown from the mounting.

Pricing & Delivery
ASI Instruments' ShieldPoint RF capacitance switches are available for immediate shipment. Prices for the ShieldPoint300 start at $570 and ShieldPoint400 start at $670. Delivery is one week from receipt of order for standard units.

About ASI Instruments
ASI Instruments, Inc. (Houston, Texas, USA) specializes in manufacturing a broad range of high reliability level instruments for dry bulk solids measurement. Founded in 1978, the company has a reputation for taking on the toughest level applications, including coal, rock crushing, and carbon black. ASI manufactures a complete line of rotary paddle switches, vibrating fork switches, plumb bobs, RF capacitance switches & transmitters, ultrasonic transmitters, laser transmitters, and guided wave radar devices. Used in over 50,000 installations throughout North America and South America, ASI's products can be found in such applications as grain processing and milling, plastics manufacturing, aggregates, building materials, and food production. ASI Instruments is a division of K-TEK LLC which is located in Prairieville, Louisiana, USA. For more information, visit www.asiinstruments.com.

For further information, contact:
Kevin Hambrice, Director of Marketing
ASI Instruments, Inc.
8570 Katy Freeway, Suite 117
Houston TX 77024 USA
800.245.7056, +1 225.673.6100, Fax: +1 713.461.7348
Email: khambrice@asiinstruments.com
Web: www.asiinstruments.com

More from Architectural & Civil Engineering Products