RF Inductors withstand shear test to 4.4 lbs.
Press Release Summary: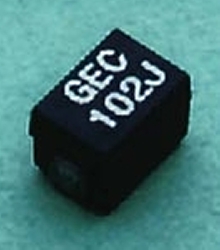 SMRF 1812 surface mount inductors provide inductance values from 1.0 to 1000 microHenries and current ratings from 450 to 30 mA. They exhibit resistance to thermal shock, and resist soldering temperatures up to 250 deg C for 30 seconds. Applications for SMRF 1812 inductors include RF signal circuitry in communications, test & measurement, medical diagnostic, and industrial process control equipment.
---
Original Press Release:
New Surface Mount RF Inductors Offer Robust Design

Reliability Testing Verifies Performance of Gowanda's SMRF 1812 Inductors

27 March 2002, Gowanda, NY (USA) - Gowanda Electronics announces the introduction of a new series of surface mount inductors - SMRF 1812 -that offers a robust design with reliable performance, as verified by severe reliability testing. This new series is targeted for use in RF applications where board manufacturers require rugged inductors that will withstand the demands of harsh soldering processes.

Gowanda Electronics' proprietary manufacturing process for the SMRF 1812 series maximizes the robustivity of the device. This is accomplished by centering the coil within the device to minimize stress on internal component parts, and by incorporating a high temperature magnet wire. The design also utilizes a semiconductor grade epoxy molding compound to enhance product quality and reliability.

Reliability testing of the SMRF 1812 inductor series was completed by Gowanda Electronics and validates the performance.

Testing began with preconditioning of the SMRF 1812 inductors via 4 cycles of reflow soldering that peaked out at 250 deg C for 30 seconds, followed by 1 cycle of complete solder submersion at 245°C. The preconditioned components then passed the following tests: 200 cycles of thermal shock, 2000 hours of life test (full load), 1000 hours of 85/85 humidity with load, drop test (1 meter, 10 times), and shear test (4.4 pounds). This rugged testing demonstrates product reliability under the most adverse conditions.

Applications for the SMRF 1812 inductors include all RF signal circuitry in communications equipment, test & measurement equipment, medical diagnostic equipment and industrial process control equipment. Other applications include use in computers, disk drives, modems and other computer peripherals, as well as in security systems, instrumentation, bar code and laboratory analysis equipment, aviation equipment, navigation equipment, electronic test equipment and cable TV.

Technical specifications for products in the SMRF 1812 series include: inductance from 1.0 to 1000 microHenries and current ratings from 450 to 30 mAmps.

The Gowanda Electronics SMRF 1812 series of inductors offers custom designs that meet the specific requirements of an application. For design details or custom requirements contact Gowanda Electronics at (716) 532-2234 or check the company website at www.gowanda.com. Typical pricing for the SMRF 1812 series is less than $.20 each (US Funds) in production quantities.

This new SMRF 1812 inductor series complements Gowanda's extensive range of leading edge designs for RF and power applications, including its most recently introduced "SMT35A" Inductors With Versatility and Efficiency, 'SMRF 2007" Vertical Surface Mount Inductors, "SMP 2007" Miniature Vertical Surface Mount Inductors, "CC" Solder-Friendly Surface Mount Inductors, "CMF2" Surface Mount Common Mode Filters, and "Power Pod" Surface Mount Inductors. Full text of these news releases is available within the "news" section of the company's website: www.gowanda.com.

Gowanda Electronics (www.gowanda.com) is a privately held company that designs, manufactures and supplies precision magnetic components for both signal and power applications. Components include inductors, chokes, toroids, and other surface mount devices which are used in a wide variety of electronic applications. Gowanda's products are used primarily by OEM companies interested in high performance electronic component solutions for the equipment they manufacture. Applications include use in test & measurement equipment, medical and diagnostic equipment, industrial automation & control equipment and instrumentation. Such equipment is used in a broad range of industries, including process and assembly industries, aviation, telecommunications, health care, data processing, security and education. Gowanda's customers include Fortune 500 companies and other significant players in these global markets, including Hewlett Packard, Agilent Technologies, Tektronix and Alcatel.

Mary T. Spohn, Marketing Tactics & Strategies 716-639-7595, fax 716-639-7481, email: mt.spohn@verizon.net
More from Sensors, Monitors & Transducers