RF Impedance/Material Analyzer utilizes one test head.
Press Release Summary: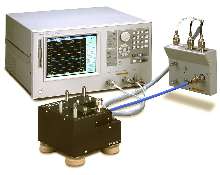 With temperature-characteristic test kit, E4991A measures permittivity and loss tangent of dielectric materials and permeability of magnetic materials. Test kit allows manufacturers to evaluate performance over temperature range of -55 to +150°C. Kit consists of extension and temperature cables, test fixture, test-head stand, and open and short standards. Microsoft® Visual Basic for Applications Windows®-based sample program allows users to configure automated test system.
---
Original Press Release:

Agilent Technologies' New Test Kit Increases Accuracy, Range, and Automation of Temperature Characteristic Measurements


PALO ALTO, Calif., March 4, 2003 -- Agilent Technologies Inc. (NYSE: A) today introduced a temperature characteristic test kit for the Agilent E4991A RF impedance/material analyzer, which allows manufacturers of surface-mount devices (SMD), dielectrics and magnetic materials to evaluate components over a broad temperature range with the highest possible accuracy.

The E4991A is the successor to the Agilent 4291B, which was previously the industry standard for impedance measurement. The E4991A is an extremely versatile instrument for designers of wireless and digital equipment who need to determine how well the components within their products function under the intended operating conditions at frequencies up to 3 GHz. The instrument can test a wide array of devices, from passive components such as resistors, capacitors, and inductors (which require RF impedance measurements), to semiconductors that require capacitance-voltage measurement. The E4991A can measure the permittivity and loss tangent of plastics, ceramics, PC boards and other dielectric materials, and also the permeability of ferrite, amorphous and other magnetic materials.

Performance over wide temperature ranges is one of the most important considerations for all of these components, since their characteristics can vary with temperature variations. The temperature characteristic test kit for the E4991A allows manufacturers to evaluate performance over a range of -55°C to +150°C, while maintaining extremely high impedance measurement accuracy. A new technique called "temperature drift compensation" -- available for the first time with the test kit -- contributes significantly to this increased accuracy. Temperature drift compensation allows designers to perform open/short compensation at up to six predefined temperature points so that drift error can be dramatically reduced. The Agilent 4291B allowed open/short compensation to be performed at only one point, so that temperature drift could not be compensated.

The test kit consists of an extension cable, temperature cable, test fixture, test-head stand, and open and short standards. It also includes a Microsoft® Visual Basic for Applications (VBA) Windows®-based sample program that runs on the E4991A and allows users to configure an automated test system. The sample program contains modules for measurement setup, temperature profile, and other measurement configurations. Each module can be completely customized to meet the requirements of customer environments, including various temperature chambers.

A complete test system employing the test kit and E4991A includes a temperature chamber in which the test fixture is placed. Agilent and ESPEC Corporation have jointly developed an advanced temperature characteristic solution that employs ESPEC's SU-261 benchtop chamber and allows temperature cycling of up to nine steps and 99 cycles. The E4991A-007 fully supports the SU-261 and the VBA sample program allows total automation of the test process. Each measurement parameter and temperature profile can be set up from the program interface on the display of the E4991A-007.

Unlike its predecessor, which requires low and high temperature test heads to cover the entire impedance measurement range, the E4991A-007 can cover a greater range with a single test head. This saves on equipment cost and eliminates the need to change the instrument setup when changing impedance ranges. In addition, a wide variety of test fixtures can be used with the E4991A-007, including models for axial and radial-leaded components, dielectric and loss tangent measurements and magnetic materials.

Additional information about the Agilent E4991 with Option 007 is available at www.agilent.com/find/E4991A.

U.S. Pricing and Availability

The temperature characteristic test kit (Option 007) for the Agilent E4991A impedance material analyzer is available now for approximately $6,100.

About Agilent Technologies

Agilent Technologies Inc. (NYSE: A) is a global technology leader in communications, electronics and life sciences. The company's 35,000 employees serve customers in more than 110 countries. Agilent had net revenue of $6 billion in fiscal year 2002. Information about Agilent is available on the Web at www.agilent.com.


More from Test & Measurement