RF Generator supports applications in HF, VHF, and UHF bands.
Press Release Summary: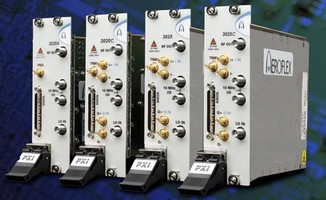 With frequency range of 1 MHz to 3 GHz, Model 3020C PXI has wideband width modulation up to 90 MHz for broadband communications standards or multi-carrier test applications as well as RF output power from -120 to +6 dBm. It incorporates dual-channel arbitrary waveform generator for supplying complex modulated signals, and is supplied with 0.5 GB of memory supporting up to 128 M x 16 bit I and Q samples. The 3020C can perform high-speed switching in less than 250 µs when in list mode.
---
Original Press Release:

Aeroflex Adds New 3 GHz Modular Digital RF Signal Generator to PXI 3000 Series Comprehensive RF Test Platform



Stevenage, England-June 17, 2008-Aeroflex today announced the 3020C PXI Modular Digital RF Signal Generator, a new 3 GHz variant to the growing PXI signal generator line. Aeroflex's comprehensive modular RF test platform, the PXI 3000 Series, has the bandwidth and versatility to seamlessly cover the entire RF test process-from R&D through to manufacturing-in any wireless market from cellular to military/aerospace to RFIC.

Ideal for RF engineers performing communications test, the new 3020C covers the frequency range of 1 MHz to 3 GHz, supporting applications in high frequency (HF), very high frequency (VHF) and ultra high frequency (UHF) bands. The 3020C has wideband width modulation up to 90 MHz for broadband communications standards or multicarrier test applications as well as RF output power from -120 dBm to +6 dBm.

"Aeroflex's configurable, scalable PXI 3000 Series RF measurement system set the industry benchmarks for flexibility, speed and performance of RF instruments," said Tim Carey, PXI product manager, Aeroflex Test Solutions. "We continue to evolve this revolutionary RF test platform, adding new modules and updating the software to extend the performance and flexibility for our customers."

As with all 3020 Series signal generators, the 3020C boasts excellent frequency and level settling times for high speed test applications and a built in dual-channel arbitrary waveform generator (AWG) for supplying complex modulated signals. The 3020C AWG is supplied with a generous 0.5 GB of on board memory supporting up to 128 M x 16 bit I and Q samples. The 3020C can perform high-speed switching in less than 250 microseconds (µs) when in list mode, which minimizes test set up time in automated systems and improves production throughput.

The 3020C is a lower cost option for wideband test applications below 3 GHz than the flagship 3025C module, which offers the same high RF performance, but with an extended frequency range to 6 GHz. Entry level modules 3020A and 3025 continue to provide the best economies for applications between 250 MHz and 2.7 GHz and 80 MHz to 6 GHz respectively where RF modulated signal bandwidths of up to 28 MHz are sufficient.

The 3020C is directly complimentary to the recently introduced 3030C Wideband RF Digitizer. Together they support wideband signal generation and signal analysis for RF component and transceiver testing. The 3020C is used with the 3010 RF synthesizer, which provides a low phase-noise, highly agile local oscillator input, from which modulated and leveled RF output signals are derived. The 3020C is a PXIe (Hybrid compatible module) that can be fitted to PXI chassis' supporting standard cPCI, PXI-1 or PXI Hybrid slots.

Another major milestone achieved in the continual development of the innovative software-defined modular RF measurement platform, Aeroflex has updated the PXI 3000 Series software to further increase its test speed. Software updates include changes to module drivers, standard and optional measurement libraries and application software. This software is compatible with all Aeroflex 3000 Series PXI modules.

Pricing and availability

The 3020C PXI Modular Digital RF Signal Generator is available now. For details on the price and availability, contact your Aeroflex sales representative at (800) 853-2352 or info-test@aeroflex.com.

The updated driver software supporting the Aeroflex 3000 Series of PXI-based modular RF instruments is now available to download free of charge from the Aeroflex web site: www.aeroflex.com/products/software.cfm?ProductType=RF%20Modular%20Instruments%20(PXI)

About Aeroflex
Aeroflex Incorporated is a global provider of high technology solutions to the aerospace, defense, cellular and broadband communications markets. The Company's diverse technologies allow it to design, develop, manufacture and market a broad range of test, measurement and microelectronic products. Aeroflex Incorporated was founded in 1937 and today has more than 2,600 employees worldwide. Additional information concerning Aeroflex Incorporated can be found on the company's website: www.aeroflex.com.

James E. De Broeck
Aeroflex Incorporated
(316) 522-4981
jim.debroeck@aeroflex.com

More from Mechanical Components and Assemblies