RF Digital VGAs feature constant linearity technology.
Press Release Summary: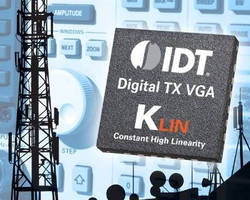 With K(LIN)™ constant linearity technology, F1455 Series Variable Gain Amplifiers maintain 38 dBm output third order intercept point for first 12 dB of gain control range. Devices feature broadband 1,400–2,300 MHz operation, 4 dB NF at max gain (2,000 MHz), and 32 dB flat, temperature invariant max gain. Available in a 6 x 6 mm 28-QFN package, amplifiers utilize SPI interface for gain control and are suitable for driving power amplifiers in wireless base station transmitters.
---
Original Press Release:

IDT Introduces New Constant Linearity Technology with Launch of Latest RF Digital VGA



Incorporating IDT's Latest Innovative Technology, the F1455 Family Maintains High Linearity Over a Wide Gain Control Range, Significantly Improving Tx System Performance



SAN FRANCISCO, – Integrated Device Technology, Inc. (IDT) (NASDAQ: IDTI), today introduced a digital variable gain amplifier (VGA) for radio frequency (RF) base stations featuring its new K(LIN)™ constant linearity technology at the International Microwave Symposium, IMS2016, Moscone Center in San Francisco. With the K(LIN) innovation, the IDT ® F1455 family of high-gain, high-linearity transmitter VGAs maintains a high 38 dBm output third order intercept point (OIP3) for the first 12 dB of gain control range, providing greater dynamic range for the system. The F1455 family of devices is ideally suited to drive power amplifiers in wireless base station transmitters.



IDT's K(LIN) technology extends both OIP3 and output 1 dB compression point (P1dBO) amplifier gain settings. This is particularly valuable in transmitter designs where the gain of the device is maintained within a normal gain setting window about 6 dB below maximum gain.



"The F1455 family provides high-reliability, monolithic, QFN-packaged silicon solutions that deliver unique constant high linearity via our new K(LIN) innovation," said Chris Stephens, general manager of IDT's RF division. "These ICs, which replace lower-reliability GaAs-based MCMs, continue IDT's trend of bringing innovative design technology to the markets we serve."



The features of the F1455 include:



--  Broadband 1400 MHz to 2300 MHz operation

--  32 dB flat, temperature invariant max gain

--  4 dB NF @ max gain (2000 MHz)

--  23 dBm P1dBO (constant for first 12 dB of gain reduction)

--  38 dBm OIP3 (constant for 12 dB gain reduction)

--  29.5 dB total gain control range, 0.5 dB step

--  SPI interface for gain control

--  All internal matching and biasing

--  High reliability MSL1 package with low thermal resistance

--  Single 5 V supply voltage



Other soon-to-be-released parts in the family cover frequency ranges of 700 MHz to 1100 MHz and 2300 MHz to 3000 MHz.



The F1455 is available in a 6 x 6 mm 28-QFN package, and is sampling now to customers. IDT representatives will be available to discuss K(LIN) and other innovations at IDT's booth number 316 at IMS2016, Moscone Center, May 24 - 26.



About IDT RF Products

IDT offers high-performance and full-featured radio frequency (RF) products that deliver exceptional performance in compact packages. All IDT RF signal path devices are silicon based, offering inherent advantages over GaAs-based products. The portfolio includes RF mixers, RF and IF variable gain amplifiers (VGA), digital step attenuators (DSA), demodulators, broadband modulators, RF switches, and wideband voltage variable attenuators. IDT's RF devices are ideal for use in such products as cellular 4G base stations, broadband repeaters, distributed antenna systems and microwave backhaul equipment.



About IDT

Integrated Device Technology, Inc. develops system-level solutions that optimize its customers' applications. IDT's market-leading products in RF, timing, wireless power transfer, serial switching, interfaces and sensing solutions are among the company's broad array of complete mixed-signal solutions for the communications, computing, consumer, automotive and industrial segments. Headquartered in San Jose, Calif., IDT has design, manufacturing, sales facilities and distribution partners throughout the world. IDT stock is traded on the NASDAQ Global Select Stock Market® under the symbol "IDTI." Additional information about IDT is accessible at www.IDT.com. Follow IDT on Facebook, LinkedIn, Twitter, YouTube and Google+.



© 2016, IDT. IDT, the IDT logo and K(LIN) are trademarks or registered trademarks of Integrated Device Technology, Inc. All other brands, product names and marks are or may be trademarks or registered trademarks used to identify products or services of their respective owners.



IDT Press Contact:

Dean Solov

Public Relations Manager

Phone: (408) 284-2608

E-mail: dean.solov@idt.com



Web Site: http://www.IDT.com

More from Software