RF Connectors suit high frequency/low impedance applications.
Press Release Summary: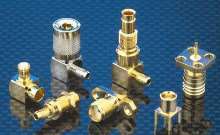 Offered in SMA, SMB, MCX, MMCX, DIN 1.0/2.3, BNC, TNC, N, and F interface styles, RF connectors are available with standard 50 ohm and optional 75 ohm impedance. All styles are offered in PCB- and cable-mount versions and various design configurations: cable-crimp, cable-clamp, bulkhead, flange-mount, straight, and right-angle. With performance capabilities out to 18 GHz, products suit higher-speed, low-loss, video/voice/data transmission applications.
---
Original Press Release:
Cinch Unveils Broad Line of RF Connectors

Lombard, IL - September 8, 2003 - Cinch Connectors today announced the introduction of its new RF connector product line.

Ideal for designs in diverse markets such as transportation, broadband, telecommunications, instrumentation, and aerospace electronics, Cinch RF connectors are manufactured to industry standards for performance and quality with an emphasis on satisfying the needs of today's higher speed, low loss, video/voice/data transmission applications.

Cinch's full-line of RF connectors includes SMA, SMB, MCX, MMCX, DIN 1.0/2.3, BNC, TNC, N, and F interface styles. These connectors meet the exacting requirements of designs calling for higher frequencies and low impedance with performance capabilities out to 18 GHz for select products.

Available in standard 50 ohm and optional 75-ohm impedance, each style is offered in PCB mount versions and cable mount versions, compatible with a wide array of commonly available coax types. Connectors are also offered with various design configurations (cable-crimp, cable-clamp, bulkhead, flange-mount, straight, right-angle, etc.) to suit most application requirements.

Detailed information on all Cinch RF products is available at www.cinch.com

About Cinch

Cinch Connectors is a supplier of reliable, high quality connectors to the Computer, Datacom, Telecom, Military Aerospace and Transportations markets worldwide. Cinch Connectors employs approximately 2000 people, with manufacturing operations located in the United States, Mexico, England, France, India and Mainland China. Cinch product engineering and development activities are based in the United States, UK, and France. Cinch is a unit of the Snecma Group, headquartered in Paris, France.

Cinch product and corporate information are readily available on the World Wide Web at www.cinch.com
Related