RF Coaxial Attenuators operate up to 4 GHz.
Press Release Summary: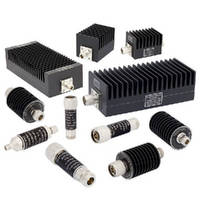 Available in 3 GHz and 4 GHz models, 50 Ω Fixed RF Microwave Attenuators can be ordered with combinations of SMA and N connectors. Units have peak power ratings from 5–200 W, depending on design, and come in 1, 2, 3, 6, 10, 15, 20, 30, and 40 dB varieties. RoHS and REACH compliant, attenuators are manufactured with large aluminum heatsink cooling fins that quickly dissipate heat and allow operation from -55 to +125°C.
---
Original Press Release:

All New Line of 3 GHz and 4 GHz RF Attenuators Introduced by Pasternack Enterprises



Irvine, CA - Pasternack Enterprises, Inc., an industry leading manufacturer and global supplier of RF and microwave products, introduces a brand new line of 3 GHz and 4 GHz frequency attenuators. This line of low frequency coaxial attenuators is specially suited for in-the-field uses and other general purpose applications where costly stainless steel designs and high performance are not required.



The new 3 GHz and 4 GHz fixed attenuators from Pasternack can be ordered with combinations of SMA and N connectors. This line of 50 ohm RF microwave attenuators operate to a maximum frequency of 4 GHz depending on the configuration and come in 1 dB, 2 dB, 3 dB, 6 dB, 10 dB, 15 dB, 20 dB, 30 dB and 40 dB attenuator varieties. A total of 63 directional and bi-directional models are available for sale and all are RoHS and REACH compliant.



Pasternack's 3 GHz attenuators and 4 GHz attenuators have peak power ratings ranging 5 Watts to 200 Watts depending on the design. These RF attenuators are manufactured with large aluminum heatsink cooling fins which help to quickly dissipate heat during operation. The superior cooling of these low frequency attenuators allows them to effectively operate between a temperatures of -55 to +125 degrees C, making them an ideal solution for a wide range of environmental conditions.



"Our new 3 and 4 GHz attenuators are an ideal complement to our expanding RF attenuator family," says Gerry Camacho, VP of Technical Marketing at Pasternack Enterprises, Inc. "These lower frequency attenuator versions provide our customers with a new in-demand product line previously not represented by our other attenuators."



The new 3 GHz and 4 GHz low frequency attenuators from Pasternack are in-stock and available now. You can view the entire line of these new products by visiting http://www.pasternack.com/pages/Featured_Products/3-ghz-and-4-ghz-attenuators-new-from-pasternack.htm directly.  Pasternack Enterprises, Inc. can be contacted at +1-949-261-1920.



About Pasternack Enterprises, Inc.

An industry leader in RF cables, adapters and connectors since 1972, Pasternack Enterprises is an ISO 9001:2008 certified manufacturer and global supplier of RF and microwave components and assemblies. Pasternack offers off-the-shelf availability and same-day shipping of the industry's largest selection of RF and microwave components.



Press Contact:

Shaun Gameroz

Pasternack Enterprises, Inc.

17802 Fitch

Irvine, CA 92614

(949) 261-1920

More from Laboratory and Research Supplies and Equipment