Rework System offers side-view camera upgrade.
Press Release Summary: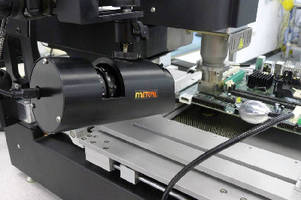 Available for Scorpion Rework System, Side-View Camera Upgrade Kit facilitates visibility of reflow during rework process and helps operator set placement height of vacuum and reflow nozzles. Kit features high magnification optics, CMOS sensor camera with USB 2.0 connection, and picture-in-picture functionality, eliminating need for second monitor. Adjustable double articulated arm provides camera mount, while LED lighting lets operator direct light onto part from different angles.
---
Original Press Release:

Metcal Introduces New Side-View Camera Upgrade Kit for the Scorpion Rework System



GARDEN GROVE, CA -- Metcal today introduced a new Side-View Camera Upgrade Kit for the Scorpion Rework System. The addition of the Side-View Camera Upgrade Kit (APR-SRS-UK3) facilitates visibility of reflow during the rework process and provides the operator with an improved method of setting placement height of the vacuum and reflow nozzles.



The upgrade kit features high magnification optics, a CMOS sensor camera with USB 2.0 connection, and picture-in-picture functionality accessed through the Scorpion software, eliminating the need for a second monitor. The double articulated arm with a wide adjustment range provides a robust and versatile camera mount, and attaches directly to the Scorpion Rework System. Additionally, the LED lighting system allows the operator the flexibility of directing the light onto the part from different angles.



The Side-View Camera Upgrade Kit was specially designed for the modular Metcal Scorpion Rework System. The Scorpion allows for simultaneous viewing of Printed Circuit Board (PCB) pads and component pads or balls for the accurate placement of BGAs. Additionally, it can create specifically tailored reflow profiles through OK International's unique convection heating technology with nozzle and dual-zone pre-heater in one user-friendly, single platform rework system.



For more information about the new Side-View Camera Upgrade Kit, visit www.metcal.com.



About OK International

OK International is a leading global supplier of soldering tools and equipment for production assembly. The product range includes bench top soldering and desoldering tools, array package rework equipment, fluid dispensing systems and accessories, and fume extraction systems.



OK International is committed to understanding the product needs of its customers and supplies professional grade products that are innovative, reliable, price competitive and easy to use. Through a global sales channel, OK International provides expert product support and responsive customer service, with localization to meet regional market needs.



OK International, Inc. • 12151 Monarch St., Garden Grove, CA • 714-230-2366 • Web site: www.okinternational.com















More from Controls & Controllers