Revolutionary Sleeving Protects Hoses Against Extreme Temperatures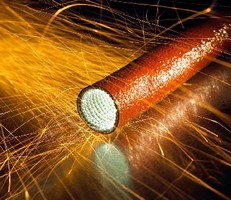 HeatGuard(TM) sleeving can literally take the heat.

In the world of hydraulics, things can literally get red hot. Use Gates HeatGuard sheathing to help protect critical hoses and couplings from sparks, molten splash, heat and fire.

HeatGuard sleeving is constructed of tightly woven fiberglass on the inside...and a specially compounded, heat-resistant silicone rubber cover on the outside. HeatGuard sheathing provides superior protection in work environments that can reach ultra-high temperatures.

HeatGuard sheathing is a completely non-asbestos, heat-resistant protective sleeving. Its special silicone coating can also withstand a broad range of solvents and fuels. It goes on easily over most hoses and couplings, with hose clamps or wire ties required for fastening.

Best of all, HeatGuard sheathing can pay for itself in reduced replacement and maintenance costs.

More from Machinery & Machining Tools