Reversible Plate Compactors are built for contractor use.
Press Release Summary: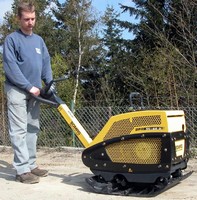 Suited for work on granular, cohesive, and mixed soils, models BPR35/60 and BPR35/60D are respectively powered by fully enclosed 5.4 hp Honda air-cooled gas engine and 4.16 hp Hatz air-cooled diesel engine. Vibratory exciter design lends to working speed capabilities, as well as gradeability, on all types of soil. Both models have max vibration frequency of 4,800 vibrations/min and heavy-duty, wear-resistant base plates with reinforced edges and working width of 23.6 in.
---
Original Press Release:

BOMAG's New BPR35/60 Series Plate Compactors Offer Improved Performance and Productivity



LAS VEGAS - BOMAG introduces two compact-size reversible plate compactors that offer contractors and rental customers faster working speeds and greater compaction forces and well as fully enclosed engine protection hoods.

Ideal for work on granular, cohesive and mixed soils, the new BPR35/60 series includes two models: the BPR35/60 features a 5.4-horsepower Honda air-cooled gasoline engine, while the BPR35/60D offers a 4.16-horsepower Hatz air-cooled diesel engine.

Both models feature a new vibratory exciter design that gives them a 23 percent faster working speed than the models they replace as well as improved gradeability on all types of soil. In addition, both offer a 13 percent increase in centrifugal force.

Maximum vibration frequency is now 4,800 vibrations per minute, a 6 percent increase over the previous models. Both vibration frequency and centrifugal force are easily adjusted using the throttle control. Heavy-duty wear-resistant base plates feature reinforced edges and have a working width of 23.6 inches.

Like all of BOMAG's reversible plate compactors, the BPR35/60 series features a high-strength, grain-refined steel hood that helps protect the engine and all internal components from job-site and transportation damage. To simplify maintenance, the hood is hinged and swings forward to reveal the entire engine. Large, integral service ports permit access to the most common maintenance points.

For maximum safety and comfort, the new units feature a steering rod with built-in vibration buffers, which help reduce the amount of vibration transferred to the operator. Additionally, the steering rod is height adjustable to accommodate any operator and is lockable in both the transport and working position.

Both models also feature a fully protected V-belt, lifetime lubricated vibration bearings, reinforced self-adjusting centrifugal clutch, foldable multi-function lifting point and bumper protection.

The gasoline-powered BPR35/60 also features a maintenance-free transistor ignition, large-volume dry air filter with cyclone-type precleaner and automatic shutdown at low oil level. The diesel-powered BPR35/60D comes with semi-automatic decompression for easier starting.

Available options include electric start with warning buzzer to indicate low oil level or key left in "on" position. An hour meter is available on electric start models. An optional vulcolan mat prevents scuffing when compactors are used on paving block.

For more information on the new BPR35/60 series reversible plate compactors or the complete BOMAG Light Equipment product line, including vibratory tampers, single-direction and reversible vibratory plate compactors, trench compactors, single- and tandem-drum walk-behind vibratory rollers, and single- and tandem-drum ride-on vibratory rollers, contact BOMAG Americas, Inc., 2000 Kentville Road, Kewanee, IL 61443, call (309) 853-3571, toll-free (800) 782-6624, fax (309) 852-0350, e-mail info.bomag@bomag.com or visit the company's Web site at www.bomag-americas.com.

Related