Revenue Meter includes 10 Mb on-board memory.
Press Release Summary: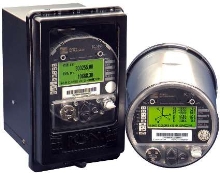 Socket-mount ION® 8600 energy and power quality meter captures and stores transient disturbances, sags, swells, waveforms, and load trends. Providing up to 5 simultaneous communication ports, including web-ready Ethernet ports, unit offers industry-standard protocols for data sharing between utilities, customers, and network operators. It can interface to standard SCADA and billing systems, while performing power quality analysis, compliance reporting, and control functions.
---
Original Press Release:

High-Accuracy Revenue Meter Offers Extensive Power Quality and Communications Options


VICTORIA, BC (June 22, 2005) Power Measurement today introduced the next generation of revenue metering: the ION® 8600 energy and power quality meter. Based on the company's proven and reliable ION 8000-series platform, the socket-mount ION 8600 combines Class 0.2 metering accuracy with expanded on-board memory, advanced power quality analysis, multi-port communications and extensive I/O. With a unique, modular design, each ION 8600 comes preconfigured to meet standard metering, monitoring and control applications, or can be ordered fully customized with customer-specified programming.

For investor-owned, government and large municipal and cooperative electric utilities, the ION 8600 can play a key role in helping operations personnel improve visibility and extend control across their electrical power grids. The ION 8600 meets the most demanding standards for revenue metering accuracy including IEC 62053-22 Class 0.2S, and ANSI C12.20 Class 0.2. Faster processing and expanded memory (up to 10MB) enables the meter to capture and store high-speed transient disturbances, sags, swells, waveforms, load trends, and other critical data.

The meter provides up to five simultaneous communication ports, including web-ready Ethernet ports, and offers industry-standard protocols for effortless data sharing between utilities, customers and network operators. The ION 8600 can interface to all industry standard SCADA and billing systems, while simultaneously performing power quality analysis, compliance reporting, and control functions. As part of an energy information system, the ION 8600 helps operations personnel prevent downtime, optimize maintenance, benchmark power quality, verify performance contracts and more.

According to Scott Henneberry, vice president marketing and business development, the ION 8600 meter offers an attractive solution for grid metering applications. "Whether using the ION 8600 for settlement billing, substation automation or system-wide power quality analysis, this device can accommodate today's advanced metering needs, while providing the flexibility and versatility for expansion in the future," said Henneberry.

The ION 8600 energy meter is available now from Power Measurement. For more information, visit www.pwrm.com/products/ION8600.

About Power Measurement:
Power Measurement is a leading provider of enterprise energy management systems for energy suppliers and consumers worldwide. The company's ION® web-ready software and intelligent energy meters help businesses improve power quality, reduce energy costs and keep operations running enterprise-wide, 24 hours a day.

Anthony Tisot
Public and Media Relations Manager
POWER MEASUREMENT
Tel: (250) 652-7100
Fax: (250) 652-0411
E-mail: anthony.tisot@pwrm.com
Web: www.pwrm.com

More from Electrical Equipment & Systems