Reusable RFID Tags/Labels keep track of reusable packaging.
Press Release Summary: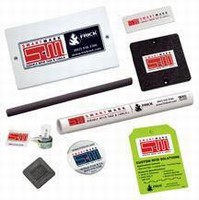 Smartmark(TM) series offer reliable generation 2 passive solution for tracking all reusable packaging - totes, pallets, bulk containers - through every stage of supply chain. Offered in custom form factors with rapid prototyping available, weather-resistant products have ranges of 5-12 ft using hand-held readers (longer with fixed mount readers). Available designs include offset, impact- and temperature-resistant, fully encapsulated, and SnapAround(TM).
---
Original Press Release:

SmartMark Tags for Reusable Transport Packaging



Libertyville, IL - 2008
William Frick & Company

Corporations are increasingly turning to reusable packaging systems for both their environmental and economic benefits. Reusable packaging not only creates less waste, it also improves business efficiency by reducing overall packaging costs. Now William Frick & Company has introduced a full line of rugged, reusable RFID tags and labels that make keeping track of reusable packaging simple.

"Reusable packaging offers many advantages over traditional wooden pallets and corrugated materials," explained Evie Bennett, Vice President of the Libertyville, IL-based company, "including the ability to track totes, pallets and bulk containers through every stage of your supply chain. The Smartmark(TM) series offers the sort of durable, weather resistant RFID tags that will help companies realize a quick return on their reusable packaging investment."

SmartMark(TM) tags include offset, impact and temperature resistant, fully encapsulated, and unique SnapAround(TM) designs. With ranges of 5' to 12' using hand-held readers and much longer ranges when read by fixed mount readers, they offer users a reliable generation 2 passive solution for tracking all their reusable packaging.

Greener and more efficient

With major in-field tests currently underway, RFID tracking of reusable packaging has been hailed as a solution to the landfill crisis as well as a method of solid waste reduction. Additionally, it helps control greenhouse gas emissions and reduces overall energy consumption. Offering the widest variety of tags available anywhere, SmartMark Tags can play an important role in helping companies save both energy and money. Custom form factors and rapid prototyping is available. For a catalog of SmartMark durable RFID tags and labels contact William Frick & Co. at (847) 918-3700 and talk with one of their experts or visit www.fricknet.com/smartmark/.

About William Frick & Co.
William Frick & Company is the leading custom label, marking and graphics resource. Producing durable products and RFID solutions for a wide range of industrial, commercial and logistical applications, the company is ISO 9001:2000 certified and has been in business since 1975. For information regarding all of William Frick and Company's quality products and services, visit www.fricknet.com or call 847-918-3700 and speak to a sales representative.

William Frick & Co.
Evie Bennett,
VP of Marketing & Sales
EB@fricknet.com

William Frick & Co.
Andrew Magnuson
Marketing Manager
andrew.magnuson@fricknet.com