Reusable Packaging Solution withstands rough handling.
Press Release Summary: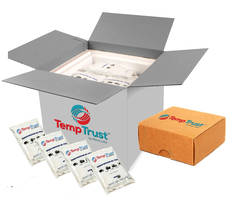 Available in multiple sizes with 24 to 96 hour durations in multiple temperature ranges and seasonal pack-outs, TempTrust™ Reusable Packaging Solution is designed with durable materials and patented Arcel coated EPS cooler. TempTrust Packaging includes outer plastic corrugate, Arcel coated EPS and hard bottle PCMs. Packaging meets safety and cost requirements.
---
Original Press Release:
Mesa Labs Introduces New Addition to the Smart and Innovative TempTrust™ Reusable Product Line
New pre-qualified, temperature-controlled packaging solutions are durable, green and viable alternatives for low cost-per-shipment and a quicker return-on-investment than single-use solutions
Mesa Labs, a trusted industry leader in temperature controlled packaging solutions and related cold chain services for the life sciences market, has developed a new line of durable packaging solutions that enhance their current TempTrust Reusable line. These pre-qualified solutions are available in multiple sizes, 24 to 96 hour durations in multiple temperature ranges and seasonal pack-outs. Mesa Labs is leading the way in developing packaging solutions that are both recyclable and reusable. The goal of which is to produce sustainable solutions that meet both the safety and cost requirements of today's environmentally conscious company.
The Ultimate in Reusable Packaging
Built for closed loop logistics and green-conscious organizations, the new reusable packaging system is specially designed using extremely durable materials and a patented Arcel coated EPS cooler that withstands the rough handling of a typical shipment. This coating does not add to the weight of the cooler thereby making the solution even more advantageous. The unique construction of the solution allows it to be repeatedly recovered, inspected and reissued to provide a rapid return on investment and a lower cost-per-trip than single-use packaging solutions. Reusability also enables lower inventory requirements.
"Our customers are getting outstanding results from our reusable solutions with cost per shipment down to just a few dollars in closed loop environments, said Jean Bedard, VP Operations for Mesa Canada. "With our proprietary data models, we have been able to optimize the amount of refrigerant, create efficiencies in pack out processes, and provide durability that makes the solution not only reusable, but resists damage during the outbound and return process."
Key Features of the New TempTrust Reusable Packaging Solution
Mesa Labs has meticulously analyzed transportation modes in North America for over a decade and documented thousands of data points across all major origins and destinations. This knowledge enables the company to offer packaging solutions that surpass all industry standards, reduce failures and cuts total-cost-of-ownership.
Mesa's newest TempTrust Reusable solution includes an outer plastic corrugate, Arcel coated EPS, hard bottle PCMs and other materials that can be repeatedly cleaned, reused and are ideal for extreme shipping environments. The new product line joins the rest of the TempTrust Reusable family, including the TempTrust, TempTrust Extreme, TempTrust Pallet and TempTrust Rugged.
Rapid Return on Investment (ROI) with a minimum of 10 uses for every packaging system
Fast-track qualification through proven data models
Customized solutions developed around key requirements such as regulatory compliances, seasonal, transportation processes, and locations.
Optimized through right refrigerants to reduce container weight, gel pack conditioning, & reduce pack-out failures
Scalable to meet your needs
Sizes and volumes ranging from 1.5 to 48.8 liters and several performance ranges
Qualification Reports (IQ and OQ) included in every solution. Seasonal Performance Qualifications available
Recyclable Components and outer shell that can be shredded and remolded
To continue your learning about the product line, visit TempTrust Reusable Packaging Solutions.
Contact:
Mesa Labs - Packaging Division
12100 W 6th Ave
Lakewood, CO 80228
Phone: 905-470-1318
Url: http://temptrust.mesalabs.com/
Related