Reusable HDPE Container measures 32 x 30 x 18 in.
Press Release Summary: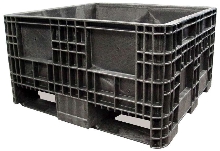 With load capacity of up to 2,000 lb, ROPAK(TM) 3A18 is designed with fixed sidewalls for warehousing, distribution, and transport of small, dense parts. RFID-ready product holds 5.4 ft³ of volume and weighs 50 lb. Able to be stacked up to 6-high without racking, container is available with conveyable, 2-way forklift entry base or non-conveyable, 4-way forklift entry base as well as solid surface closed deck or perforated open deck.
---
Original Press Release:

New 18 Inch Tall ROPAK(TM) Container Now Available in 32 x 30 Inch Footprint


GEORGETOWN, KY (June 22, 2005) - The ROPAK(TM) 3A Series of reusable, containers, featuring a 32" x 30" footprint, is now available in a new height: 18". Manufactured by LINPAC Materials Handling, all containers in the 3A Series offer load capacities of up to 2,000 pounds (907 kg), including the 3A18.

Designed with fixed sidewalls, the ROPAK 3A18's low height makes it ideal for warehousing, distribution, and transport of small, dense parts in a variety of applications. These include: automotive components, bearings, hardware, industrial equipment, metal parts, plastics and rubber, resins and powders, stampings, textiles, and tools.

The 3A18 holds 5.4 cubic feet (0.15 cubic meters) of volume, and weighs 50 pounds (22.7 kg). This lighter weight, coupled with its compact size, allows the 3A18 to be more easily transported and toted-in comparison to the larger footprint containers in other ROPAK product lines. The 3A18 Series containers may be stacked up to 6-high with a static load, and up to 5-high with a dynamic load-no racking needed-for better utilization of floor space. Its sidewalls are available with at least two flat label areas each while its base offers six label areas. This allows users multiple opportunities to mark the container for easier identification of contents and ownership.

Additionally, LINPAC offers 32" x 30" footprint containers in four other existing heights: 25", 30", 34", and 39". These containers may be specified with the user's choice of 0, 1 or 2 hinged drop doors on the 32" side. All five of the ROPAK 3A containers are available with either a conveyable, 2-way forklift entry base, or with a non-conveyable, 4-way forklift entry base. Users may also select a solid surface Closed Deck or a perforated Open Deck-ideal for applications where the containers require washing.

The ROPAK 3A18, like all 3A Series containers, is made of tough, durable high-density polyethylene (HDPE) to easily withstand the abuse of multiple return trips while providing superior product protection when compared to other forms of packaging, such as corrugated cardboard. Custom colors, custom molded-in logos, lids, ID plates and other options and accessories are also available to help users streamline and organize their distribution process.

The entire ROPAK 3A Series of containers is RFID-ready, and the workmanship and materials of all LINPAC Materials Handling products are guaranteed with a three-year warranty. These containers may also be recycled at the end of their useful life. LINPAC Materials Handling also offers a variety of logistics solutions to help customers better manage their handling and transportation needs.

LINPAC Materials Handling manufactures ROPAK(TM) reusable bulk containers, pallets, and totes. These products are used in warehousing, manufacturing, transportation, distribution and merchandising to replace single trip paper, cardboard and metal packaging. Made of premium grade high-density polyethylene (HDPE) and copolymer polypropylene (CPP) for durability, LINPAC products are available in a wide variety of configurations and weight capacities.

LINPAC Materials Handling products serve in a variety of industries, including automotive, plastics, chemicals, textiles, industrial equipment, beverage, fresh produce, meat, poultry and retail grocery. A full range of design, implementation, financial and support services is available.

For more information about LINPAC Materials Handling, please visit www.LinpacMH.com, or contact Kim Stone at 502-863-5500, or toll free at 1-888-209-7052, or by email at MAILTO:kim_stone@linpacmh.com.

More from Fluid & Gas Flow Equipment