Return of 5 And 8 Micron PES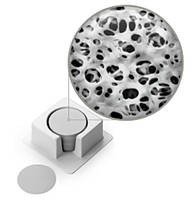 Precision membrane filters in pore sizes larger than 5.0 microns are hard to come by, but not at Sterlitech.
One of our more popular membrane materials is Polyethersulfone (PES). The membranes are ideal for use with difficult biological solutions that tend to clog most other polymer filters, and the 0.2 micron pore size PES filter is the industry standard for sterile filtering of liquids. Sterlitech PES binds very little protein and has a very asymmetric pore structure lending to improved performance. The largest pore size available previously was only 5.0 micron, but this material frequently suffered from long lead times due to increased demand. Sterlitech has implemented steps to ensure current product availability, not only for the 5.0 micron PES filters, but now 8.0 micron as well!
PES is very hydrophilic and shows outstanding performance in a wide range of applications. The larger pore sizes perform very well under high particulate loads from biological solutions, such as cell lysates, surface water, and sewage analysis. The material?s asymmetry allows it to also function as its own pre-filter when placed open-side up to the feed liquid!
The PES filters are available in almost all standard lab disc sizes from 13mm up to 293mm and can also be offered in sheets and roll stock options, as well as custom-cut dimensions. Curious to see if these filters would help your separation processes? Give us a call and we can help!
Sterlitech Corp.
22027 70th Ave. S.
Kent WA 98032-1911
Phone: 253-437-0844
Url: http://www.sterlitech.com
Conta: Sales Department
email: sales@sterlitech.com
More from Mechanical Components and Assemblies