Retractable Stabilizer Cover reduces fin box opening drag.
Press Release Summary: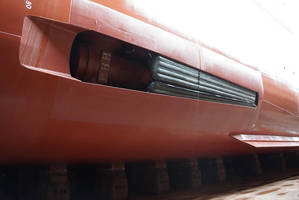 Using 2 air cushions fitted to top and bottom of fin box, SKF Dynamic Stabilizer Cover (DSC) reduces drag and promotes efficiency of passenger vessels with SKF retractable fin stabilizers type S and type Z. Cushions are inflated during normal operation using compressed air from vessel's pneumatic systems to form smooth, streamlined cover over fin box opening. When stabilizer fin is to be extended/retracted, air is released from cushions, which are deflated by water pressure outside hull.
---
Original Press Release:
Innovative SKF Dynamic Stabilizer Cover Cuts Retractable Stabilizer Fin Box Opening Drag By Up To 90 Percent
Flexible, pneumatically operated cover system offers significant fuel savings with minimal complexity and low maintenance requirements

Gothenburg, Sweden: At the SMM 2016 trade fair (Hamburg, 6-9 September), SKF will launch its new SKF Dynamic Stabilizer Cover, designed to reduce drag and improve the efficiency of passenger vessels equipped with SKF retractable fin stabilizers type S and type Z.

The use of fin stabilizers to control rolling motions has resulted in significant improvements to passenger comfort and safety in a wide range of vessels, from yachts to cruise ships, ferries as well as commercial vessels. Retractable designs, such as the SKF retractable fin stabilizer type S and type Z, reduce the flow resistance significantly. Now SKF engineers have found a smart way to further reduce the flow resistance associated with this design, while retaining all its other benefits.

When a vessel is in motion, the fin box opening in the side of the hull creates turbulence, increasing drag on the vessel. With operating efficiency posing a high priority for customers, SKF wanted to find a way to minimise the resistance even more and thereby decrease fuel consumption.

The solution is a deceptively simple, pneumatically operated design. The new SKF Dynamic Stabilizer Cover (DSC) uses two specially shaped air cushions, fitted to the top and bottom of the fin box with small steel rails. In normal operation, the cushions are inflated using compressed air from the vessel's existing pneumatic systems. Inflated, the cushions form a smooth, streamlined cover over the fin box opening, a shape that has been shown by computer modelling as well as real life tests to reduce drag by around 90 percent.

When the stabilizer fin is to be extended or retracted, air is released from the cushions by opening the valve. The cushions are then deflated by the water pressure outside the hull, creating room for the fin's movement. When deployment or housing is complete, the cushions can be re-inflated. Control of the cover is fully integrated into the stabilizer fin control systems, requiring no additional action by the crew.

The DSC is constructed from a highly durable Kevlar mesh coated with neoprene rubber which provides extra protection from barnacles and other marine life that may accumulate on the fin.

The DSC cover will be available as an option for new vessels using all sizes of SKF retractable fin stabilizers and it is also possible to retrofit the system on existing fin installations.

See SKF at SMM 2016: Hall A1, stand 210

For further information, please contact:
Press Relations: Nia Kihlström, +46 31-337 2897; +46 706 67 28 97; nia.kihlstrom@skf.com

SKF is a leading global supplier of bearings, seals, mechatronics, lubrication systems, and services which include technical support, maintenance and reliability services, engineering consulting and training. SKF is represented in more than 130 countries and has around 15,000 distributor locations worldwide. Annual sales in 2015 were SEK 75 997 million and the number of employees was 46 635. www.skf.com

® SKF is a registered trademark of the SKF Group.
More from Fluid & Gas Flow Equipment