Retort Product Delivery System features 2-basket design.
Press Release Summary: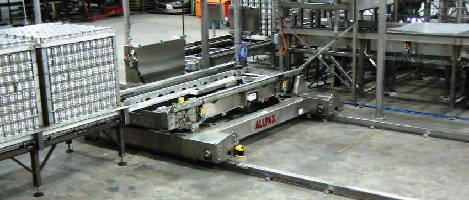 Available for new installations and as retrofit solution, Retort Product Delivery System is suited for small footprint retort rooms that utilize 4-, 6-, and 8-basket horizontal retorts for preparation of shelf-stable food. System features 2-basket shuttle that travels at 240 fpm. Basket coupling system eliminates need for long loading arms, contributing to compact size.
---
Original Press Release:

Allpax High-Speed Two-Basket Retort Product Delivery Systems



Automate Small Footprint Retort Rooms

COVINGTON, La., - Allpax Products, powered by Pro Mach, introduces a new automated high-speed retort product delivery system for small footprint retort rooms that utilize four-, six-, and eight-basket horizontal retorts for the preparation of shelf-stable food. This new system is suitable for both new installations and as a retrofit solution.

The new Allpax system reduces labor cost and frees up workers for more value adding activities. Furthermore, with workers freed from the physical demands in the retort room of loading and unloading heavy baskets, employers can expect to see fewer repetitive motion injuries, worker compensation claims, and lost work days due to injuries. Employers should also see less damage to baskets and retorts for those operations using forklifts for loading and unloading. Return on investment can be two years or less, depending on the number of retorts served and personnel assigned to loading and unloading operations.

Understanding the new system

The typical automated retort product delivery system requires enough space for four-, six-, and eight- basket long automated shuttles to run between the basket loading area and the bank of retorts. Each shuttle has a loading arm sized to the length of the horizontal retorts it serves. Typically shuttles move at about 50 feet per minute. The end result is a long, automated, and fairly slow moving train of baskets in large open areas.

In contrast, the shorter two-basket shuttle travels nearly five times as fast - 240 feet per minute. An innovative basket coupling system removes the need for long-loading arms, which contributes to the compact size of the two-basket shuttle. With increased speed and the basket automated couple/decouple mechanism, the high-speed two-basket system performs the loading/unloading process in a space 50 to 75 percent smaller in size than that required by the longer shuttles.

"From the perspective of automation hardware, control software, and the new agitation processes such as Shaka® and Gentle Motion that improve productivity and quality, there has never been a more advantageous time in the last decade in terms of technology improvements for the shelf-stable food industry," said Greg Jacob, vice president and general manager, Allpax.

For information on the new Allpax high-speed two-basket loading system for small footprint retort rooms call 1-888-893-9277 and visit Allpax.com. 985.893.9277

About Allpax Products

Allpax Products, a market leader in retort technology and retort room automation, designs, manufactures, and delivers turnkey sterilization solutions for the food, beverage, pet food, and pharmaceutical industries. The company is recognized for helping customers become more successful by decreasing time to market with laboratory retort equipment, lowering overall labor costs through automation, and increasing the overall throughput of the sterilization process. Allpax.com

About Pro Mach

Pro Mach, Cincinnati, Ohio, is a leading provider of integrated packaging products and solutions for food, beverage, household goods, pharmaceutical, and other diverse consumer and industrial companies. Through three business units and related divisions, Pro Mach provides equipment, training, installation, and parts in primary packaging, end-of-line packaging, and identification and tracking. ProMachInc.com


More from Electrical Equipment & Systems