Restoration Robotics™ to Participate in the International Master Course on Aging Science (IMCAS) World Congress 2018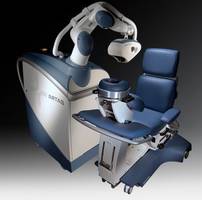 Company to Feature Live Demonstrations of ARTAS™ Robotic Hair Restoration System
SAN JOSE, Calif., Jan. 30, 2018 - Restoration Robotics, Inc. (NASDAQ:HAIR) announced today that the Company will showcase the ARTAS™ Robotic Hair Restoration System (the "ARTAS System") at the 20th Annual IMCAS World Congress February 1-3 at the Palais des Congrès de Paris, France. The IMCAS World Congress is one of the premier multi-specialty conferences dedicated to aesthetic science.
At the Congress, Restoration Robotics will sponsor a symposium "The Future is Here" on Thursday, Feb. 1 from 12:00 – 1:00 p.m. CET/6:00 – 7:00 a.m. EST. The symposium will feature two very experienced robotic hair restoration specialists from the EMEA region, both of whom have received the Company's Clinical Center of Excellence Award.
In particular, Dr. Eduardo Lopez Bran from Clínica Imema in Madrid will provide valuable insight on patient generation techniques employed at his practice where he conducts multiple procedures each day; and Dr. Claude Aharoni from The Clinic in Paris will review some the most compelling technical aspects of the ARTAS System and explain why he chooses the system for large scale procedures at his clinic.
The Company will also offer a "Live Surgery Workshop" in conjunction with IMCAS World Congress where Dr. Aharoni and his team will perform a live procedure with the ARTAS System.
Ryan Rhodes, CEO of Restoration Robotics, said, "We are extremely excited to have such a significant presence at the 20th IMCAS Congress in Paris, including live demonstrations of the ARTAS System and presentations by two top European users. IMCAS provides us with an excellent opportunity to generate clinician interest and connect with potential customers from around the world."
About Restoration Robotics
Restoration Robotics, Inc., is a medical device company developing and commercializing the ARTAS™ Robotic Hair Restoration System. We believe the ARTAS System is the first and only physician-assisted system to dissect, and assist in the harvesting of, follicular units directly from the scalp and create recipient implant sites using proprietary algorithms. The Company has unique expertise in machine vision, image guidance, visual servoing and robotics, as well as developing intuitive interfaces to manage these technologies.
More from Sensors, Monitors & Transducers