Respirometer measures anaerobic gases.
Press Release Summary: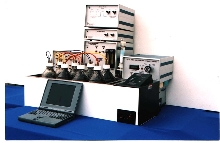 Anaerobic Respirometer measures 02, C02, CH4, H2, N02, H2S, or CO produced during anaerobic processes. Separate process reactors are connected to sampling chamber via check valve. As pressure in anaerobic reactor increases, gas passes through check valve into sampling chamber, where it can be measured. It can simultaneously measure gas production from one to 80 different reactors. Same respirometer can be reconfigured for aerobic respiration.
---
Original Press Release:
Anaerobic Respirometer
Columbus Instruments' new, high precision, Respirometer is capable of measuring gases produced during anaerobic respiration. The anaerobic process takes place in separate reactors which are connected to the sampling chamber via a very sensitive check valve. As pressure in the anaerobic reactor increases, the gas passes through the check valve into the sampling chamber. Once the gases have passed into the sample chamber they are measured by the gas analyzers. The Anaerobic Respirometer can simultaneously measure gas production from 1 to 80 different reactors in which the anaerobic process takes place. The advantage of Columbus Instruments' method is that the anaerobic process takes place in a closed reactor to which no ambient air is allowed. The same respirometer can be reconfigured for aerobic respiration. In such cases, gases are sampled from the head space of the reactors and air in the reactor can be periodically refreshed with ambient air. The System runs under Windows and the user can select a number of gas analyzers such as 02, C02, CH4, H2, N02, H2S, CO. For more information contact: COLUMBUS INSTRUMENTS phone: (614) 276-0861 fax: (614) 276-0529 sales@colinst.com
More from Fluid & Gas Flow Equipment