Respiratory Assay simultaneously detects 22 pathogens.
Press Release Summary: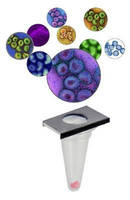 With tube strip design accommodating throughput required to respond to seasonal changes in demand, NxTAG™ Respiratory Pathogen Panel (RUO) lets laboratories simultaneously detect 22 respiratory pathogens in closed tube system. Functionality minimizes required hands-on time and eliminates upstream reagent preparation requirements. Total turnaround time is ~3 hr for 96 samples (excluding extraction), and accompanying SYNCT™ Software provides data analysis and reporting.
---
Original Press Release:

A New Test to Simultaneously Detect 22 Respiratory Pathogens



Luminex® Corporation Launches the NxTAG(TM) Respiratory Pathogen Panel (RUO) - A Closed-Tube, Flexibly Scalable Solution for Respiratory Testing



AUSTIN, Texas -- Luminex Corporation (NASDAQ: LMNX) today announced the launch of the NxTAG(TM) Respiratory Pathogen Panel (RUO). The NxTAG Respiratory Pathogen Panel is the only respiratory assay that enables laboratories to both simultaneously detect 22 respiratory pathogens in a single closed tube system and accommodate the higher throughput required to respond to seasonal changes in demand.



"We are excited to bring the RUO version of the NxTAG Respiratory Pathogen Panel to market," said Homi Shamir, President and CEO of Luminex. "Luminex introduced multiplexed respiratory panels to the clinical market in 2008 and our customers are anxiously awaiting a next-generation product that delivers expanded panel coverage and a simple closed tube workflow, combined with the throughput and quality of results established by the xTAG Respiratory Viral Panel. We are also pleased to report that we remain on track with our NxTAG clinical trials schedule which started in the first quarter of the year, and we expect the FDA submission to occur in the summer of 2015."



The NxTAG Respiratory Pathogen Panel requires only minutes of hands-on time and no upstream reagent preparation. Extracted samples are added directly to pre-plated, lyophilized reagents. The tubes are then sealed and ready for closed tube amplification and subsequent detection using the Luminex MAGPIX® instrument.



The innovative tube strip design offers laboratories the flexibility to manage variable sample demand by processing a single sample or up to 96 samples per run without wasting consumables or reagents. The NxTAG Respiratory Pathogen Panel total turnaround time is approximately three hours for 96 samples (excluding extraction). The accompanying SYNCT(TM) Software provides a comprehensive approach to data analysis and reporting, and integrates the NxTAG Respiratory Pathogen Panel easily into any laboratory.



Clinical trials for the NxTAG Respiratory Pathogen Panel are in progress in the U.S.



To learn more or request a demo, visit: http://www.luminexcorp.com/nxtag.



RUO products are for Research Use Only. Not for use in diagnostic procedures.



Why Test for Respiratory Pathogens?

Many commonly encountered respiratory pathogens (viral and bacterial) have similar clinical presentation, making diagnosis based on symptoms alone very difficult. Influenza viruses commonly cause respiratory illness, but many others pathogens may cause significant impact on patient health as well. Respiratory syncytial virus (RSV), as one example, is the most common cause of severe respiratory illness in young children as well as a leading cause of death from respiratory illness in those aged 65 years and older.(1)



A clinician needs to accurately detect the respiratory pathogen causing illness in the patient in order to effectively prescribe treatment and control the spread of infection. Laboratories need respiratory assays that can rapidly and efficiently detect these relevant pathogens with minimal hands-on time and no post-PCR handling to meet laboratory, physician, and patient needs.



Reference

1. Seasonal Influenza & Other Respiratory Viruses. Centers for Disease Control (Internet). Cited 2015 March. Available from: http://www.cdc.gov/flu/about/qa/other.htm.



About Luminex Corporation

Luminex is committed to applying its passion for innovation toward creating breakthrough solutions to improve health and advance science. The company is transforming global healthcare and life-science research through the development, manufacturing and marketing of proprietary instruments and assays utilizing xMAP® open-architecture multi-analyte platform, MultiCode® real-time polymerase chain reaction (PCR), and multiplex PCR-based technologies, that deliver cost-effective rapid results to clinicians and researchers. Luminex's technology is commercially available worldwide and in use in leading clinical laboratories, as well as major pharmaceutical, diagnostic, biotechnology and life-science companies. Luminex is meeting the needs of customers in markets as diverse as clinical diagnostics, pharmaceutical drug discovery, biomedical research including genomic and proteomic research, personalized medicine, biodefense research and food safety. For further information on Luminex Corporation and the latest advances in multiplexing using award winning technology, please visit http://www.luminexcorp.com/.



Contacts

Luminex Investor Contact

Harriss Currie

Sr. Vice President of Finance and CFO

512.219.8020

hcurrie@luminexcorp.com



Luminex Media Contact

Christine Valle

Sr. Manager, Global Marketing

512.219.8020

cvalle@luminexcorp.com

More from Electronic Components & Devices