Resist Processing System supports micro- and nano-electronics.
Press Release Summary: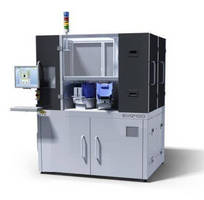 Featuring robot with dual arms for accelerated wafer swapping, EVG®120 Automated Resist Processing System supports coating and developing applications for MEMS systems, advanced packaging, and compound semiconductors. Two customizable wet processing bowls are complemented by 10 stacked modules for vapor prime, soft and hard bake, and chill processes. Accommodating wafers up to 200 mm in diameter, EVG120 includes CoverSpin™ rotating bowl cover for coating uniformity across substrate.
---
Original Press Release:

EV Group Rolls Out Next-Generation EVG120 Automated Resist Processing System For Micro- and Nano-Electronics Production



Flexible System Integrates Spin/Spray Coating and Wet Processing for MEMS, Advanced Packaging and Compound Semiconductor Applications



SINGAPORE,  -- SEMICON SINGAPORE -- EV Group (EVG), a leading supplier of wafer bonding and lithography equipment for the MEMS, nanotechnology and semiconductor markets, today introduced the latest version of its EVG(®)120 automated resist processing system.  Incorporating new features and improved productivity in an ultra-small footprint design, the EVG120 system supports coating and developing applications for a variety of markets, including microelectromechanical systems (MEMS), advanced packaging and compound semiconductors.  The flexible tool can be configured with combined spin and spray coating modules--a unique feature that maximizes productivity and optimizes cost of ownership (CoO).



Dr. Thomas Glinsner, head of product management for EV Group, noted, "Our new EVG120 system reflects EVG's 15 years of experience in resist coating and developing, and our unique process skills.  In independent surveys, our customers consistently attribute the highest scores to EVG's lithography equipment, and we've listened to their feedback to create a more optimized system.  Based on a proven platform, the next-generation EVG120 coater/developer offers increased functionality and reliability in a highly customizable and economical package."



The EVG120 automated resist processing system features a new robot with dual arms for fast wafer swapping and additional processing chambers, which result in enhanced throughput and overall productivity.  To further optimize throughput and overall productivity, the new EVG120 runs the same EVG CIM Framework software as EVG's high-end XT Frame systems and offers full software integration with SECS/GEM standards.  Two customizable wet processing bowls are complemented by 10 stacked modules for vapor prime, soft and hard bake, and chill processes.  Like its predecessor, the EVG120 system can accommodate wafers up to 200 mm in diameter. 



Other new features of the EVG120 system include EVG's innovative CoverSpin(TM) rotating bowl cover that allows improved coating uniformity across the substrate regardless of substrate shape.  A new, temperature-controlled chuck further enhances EVG's proprietary OmniSpray(®) coating technology, which specifically allows conformal coating of high-topography surfaces via its proprietary ultrasonic nozzle.  OmniSpray coating is ideally suited for ultra-thin, fragile or perforated wafers and can result in an 80-percent or greater reduction in material consumption compared to traditional spin coating.



Further improved serviceability and low CoO make the EVG120 system a versatile, high-quality production tool for an entry-level budget.  The EVG120 system is ideally suited for a wide variety of markets and applications, including: high-topography coating and spray coating for MEMS; thick-film resists and bumping for advanced packaging; and passivation, dielectrics and thick-film processing for compound semiconductor devices.



The updated EVG120 automated resist processing platform is available immediately for demonstration and evaluation.



Media interested in learning more about EV Group's technology solutions are invited to attend the company's "Bonding Technology Update" presentation at the 2.5D/3D IC Forum on May 8, 2013, during SEMICON Singapore 2013, Marina Bay Sands Expo and Convention Centre.



About EV Group (EVG)

EV Group (EVG) is a leading supplier of equipment and process solutions for the manufacture of semiconductors, microelectromechanical systems (MEMS), compound semiconductors and power devices, and nanotechnology devices.  Key products include wafer bonding, thin-wafer processing, lithography/nanoimprint lithography (NIL) and metrology equipment, as well as photoresist coaters, cleaners and inspection systems.  Founded in 1980, EV Group services and supports an elaborate network of global customers and partners all over the world.  More information about EVG is available at www.EVGroup.com.



CONTACT: Clemens Schutte, Director, Marketing and Communications, EV Group, +43 7712 5311 0, Marketing@EVGroup.com Web Site: http://www.EVGroup.com

Related