Resin Drying System uses diagnostic controller.
Press Release Summary: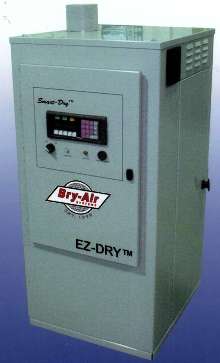 EZ-Dry(TM) desiccant rotor-based resin drying system employs rotor technology that eliminates dew-point spiking. High-volume dryer, designed for limited space/height/weight applications, offers capacities up to 600 lb/hr. Programmable Smart-Dry(TM) microprocessor-based diagnostic controller has 7-day timer and monitors dew point, process and regeneration temperatures, return-air temperatures, and various alarm functions that affect drying process.
---
Original Press Release:

Bry-Air Systems to Unveil New Resin Drying System and Controller at NPE 2003


Sunbury, Ohio: Bry-Air Systems, a leading supplier of desiccant resin drying systems, mold dehumidification systems, and plastic auxiliary handling products, will introduce its EZ-Dry(TM) Resin Drying System and Smart-Dry(TM) Controller at NPE 2003 - South Building Booth 3228. The EZ-Dry(TM) and Smart-Dry(TM) systems were engineered and developed for fast start-up, simple operation and long-term reliability and performance. When used in tandem, the system offers maximum production control and efficiency and is one of the most affordable on the market today. The EZ-Dry(TM) comes with an industry-leading 5-year warranty.

The EZ-Dry(TM) is a desiccant rotor-based resin drying system designed for shortest drying cycles, energy efficiency and long-term reliability for demanding molder requirements. The EZ-Dry's "rotor technology" improves energy efficiencies and also eliminates any dew point spiking. The EZ-Dry has been designed for limited space, height and weight restrictions, but is a high volume dryer. Capacities range up to 600 lbs. per hour. The unit to be displayed is an EZ-Dry 60, and will be fully functional during NPE to allow visitors to view the machine's capabilities.

The Smart-Dry(TM) microprocessor-based diagnostic controller offers a 7-day timer, monitors dew point, process and regeneration temperatures, return air temperatures, and various alarm functions affecting the drying process. All monitoring can be done either at the dryer or remote via serial ports. The controller can also be programmed to offer a "true dew point control" feature allowing operators to set and maintain a desired dew point. The booth's EZ-Dry 60 unit will feature the Smart-Dry controller during the show.

Also being displayed at the BRY-AIR SYSTEMS' NPE Booth will be:

Auxiliary material handling products will include a H201 (200 lb. stainless steel) insulated hopper and Resin Loader, as well as a common stand to integrate the various parts into one processing system.

Bry-Air Systems is the resin drying systems division of Bry-Air, a worldwide leader in the design and manufacture of desiccant dehumidification systems and engineered products. Bry-Air has multiple locations and more than 400 sales representatives strategically located across the globe.

For more information about BRY-AIR SYSTEM'S NPE EXHIBIT, please contact:


BRY-AIR SYSTEMS             Primary Contact: Graydon Griesse, Vice President

10793 State Route 37 W      Email: ggriesse@bry-air.com

Sunbury, OH 43074.

Phone: 740-965-2974         South Building

Toll-Free: 877-427-9247     Booth 3228

Fax: 740-965-5470

Web: bry-air.com