Residential Geothermal Heat Pump is offered as split system.
Press Release Summary: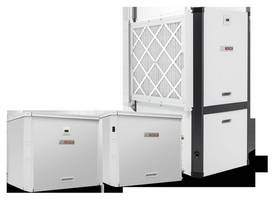 Offering up to 33.0 EER (part load) and up to 24.0 EER (full load) GWHP, Greensource CDi Series SM Model is available in split system that lets installer separate condenser section up to 75 ft away from fan coil section to isolate sound (as low as 52 dB), vibration, and unwanted heat from conditioned space. Condenser may be located indoors or outdoors. Also included, Bosch communicating thermostat displays alerts and controls air temperature as well as humidity levels.
---
Original Press Release:

Bosch Thermotechnology Now Offers Its Greensource CDi Series SM Model in a Split System



• Greensource CDi Series SM Model heat pumps available in packaged & split systems

• Split models separate condenser & fan coil for application flexibility

• Up to 33 EER (Part Load) – 24 EER (Full Load) with split model

• Condenser section can be installed outside the home



Londonderry, NH - The Bosch Greensource CDi Series SM Model residential geothermal heat pump is now available in a split system for applications seeking to separate the condenser unit from the fan coil.



A split system allows the installer to separate the condenser section up to 75 feet away from the fan coil section to isolate sound, vibration and unwanted heat from the conditioned space. The condenser may be located indoors or outdoors.



The highly efficient CDi Series SM Split Model geothermal heat pump system comes equipped with Bosch's commitment to quality, including up to 33.0 EER (part load) and up to 24.0 EER (full load) GWHP. Greensource CDi Series SM split mod-els use a Bosch communicating thermostat that displays alerts and controls not only air temperature but also humidity levels.



Greensource CDi Series heat pumps – packaged and split models - are designed and built in Bosch's ISO 9001 and ISO 14001 certified facilities in Fort Lauderdale, Florida. They serve as a platform for renewable energy products in a residential comfort control system.



Both packaged and split models are ENERGY STAR rated and are awarded ENERGY STAR 2014 Most Efficient product recognition. The new CDi Series meets ENERGY STAR Tier 3 requirements, making it eligible for up to a 30% tax credit. (See BoschGeo.com for details.)



Advantages for the installer include configurability – return air can be customized for the job, either left side, right side, or back or top of unit.



Encased in a white prepainted steel cabinet, each unit is equipped with scroll compressor technology for two-stage operation, a patent pending floating base pan, stainless steel drain pan, and an evaporator coil with tin-plated hair pins for durability and reliability. With an operating sound level as low as 52 dB, CDi Series units are some of the quietest in the industry.



Bosch provides 10-year parts and labor limited warranties on the CDi Series SM Model and split systems.



SM Split System heat pump details can be found at http://www.bosch-climate.us/products-bosch-thermotechnology/geothermal-heat-pumps/geothermal-residential-product-offering/cdi-series-sm-split-model.html



Contact:

Craig Lazinsky

Bosch Thermotechnology

Phone: +1 603-965-7445

craig.lazinsky@us.bosch.com



About Bosch

About Bosch Thermotechnology

Bosch Thermotechnology is a leading source of high quality cooling and heating systems. The Company offers Bosch tank-less, point-of-use and heat pump electric water heaters, Bosch solar thermal systems, Buderus floor-standing and wall-hung boilers, Bosch and FHP geothermal systems as well as controls and accessories for every product line.



Bosch Thermotechnology is committed to reinventing energy efficiency by offering smart products that work together as integrated systems that enhance quality of life in an ultra-efficient and environmentally friendly manner. For more information, visit www.boschheatingandcooling.com



About the Bosch Group

The Bosch Group is a leading global supplier of technology and services. According to preliminary figures, its roughly 281,000 associates generated sales of 46.4 billion euros ($61.6 billion) in 2013*. The Bosch Group comprises Robert Bosch GmbH and its more than 350 subsidiaries and regional companies in some 60 countries. If its sales and service partners are included, then Bosch is represented in roughly 150 countries. Its operations are divided into four business sectors: Automotive Technology, Industrial Technology, Consumer Goods, and Energy and Building Technology. This worldwide development, manufacturing, and sales network is the foundation for further growth. In 2013, Bosch applied for some 5,000 patents worldwide.  The Bosch Group's products and services are designed to fascinate, and to improve the quality of life by providing solutions which are both innovative and beneficial. In this way, the company offers technology worldwide that is "Invented for life." Additional information on the global organization is available online at www.bosch.com, www.bosch-press.com, and http://twitter.com/BoschPresse.



In the U.S., Canada and Mexico, the Bosch Group manufactures and markets automotive original equipment and aftermarket products, industrial drives and control technology, power tools, security and communication systems, packaging technology, thermotechnology, household appliances, healthcare telemedicine and software solutions. For more information, please visit www.boschusa.com, www.bosch.com.mx and www.bosch.ca.



*Due to a change in legal rules governing consolidation, 2013 figures can only be compared to a limited extent with 2012 figures.  Exchange rate: 1 EUR = $1.32812 (or 16.96406 MXN or $1.36837 CAD).

Related