Request-to-Exit Plates are completely wireless.
Press Release Summary: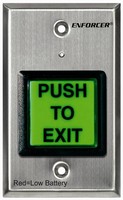 Powered by 9 V battery, SD-8202GT-PEQ and SD-8103GT-PEQ ENFORCER® Wireless RF Request-to-Exit Plates allow egress from protected areas by wirelessly connecting to electric doorstrike or electromagnetic lock. Both can be installed on brick/cement walls and feature stainless-steel faceplate as well as internal, uniquely coded, miniature RF transmitter. Single-Gang D-8202GT-PEQ features green 2 in. square pushbutton, while SD-8103GT-PEQ is slimline version with smaller pushbutton.
---
Original Press Release:

Wireless Request-to-Exit Plates from SECO-LARM - Now Available!



Oct. 11th, 2008: SECO-LARM is now shipping the SD-8202GT-PEQ and SD-8103GT-PEQ Wireless RF Request-to-Exit Plates. The ENFORCER Wireless RF Plates are the ideal solution for difficult access control installations. The plates allow egress from protected areas by easily connecting to an electric doorstrike or electromagnetic lock without wires.

The SD-8202GT-PEQ is Single-Gang, and features a green 2" square pushbutton. The SD-8103GT-PEQ is slimline and features a smaller green square pushbutton. Both can be installed on brick and cement walls where it would typically be very difficult to install request-to-exit plates because of the need for running wires. The plates require no external power and include a 9V battery making them completely wireless.

Another outstanding feature of the Wireless Request-to-Exit Plates is the long-life of the included 9V battery. Each plate is rated for 60 uses per day for up to four years! When the plate is activated the dual-colored LED located on the faceplate lights up blue, and when the battery is low it lights up red. Inside every plate is a miniature RF transmitter that is uniquely coded making it possible to install multiple plates within close proximity of one another.

Other features of the ENFORCER Wireless RF Plates include interchangeable English "Push to Exit" and Spanish "Presione para Salir" pushbutton faces, a stainless-steel faceplate, and a large operating range.

Both the SD-8202GT-PEQ and the SD-8103GT-PEQ are in stock and available for immediate shipment.

For more information, please visit www.seco-larm.com today.

Email: sales@seco-larm.com

Related