Reproducible Aluminum Foam features evenly spaced, open pores.
Press Release Summary: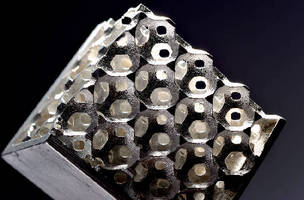 Offering optimal heat exchange and impact absorption, Aluminum Foam is made by sand casting, which allows exact form of foam to be determined before manufacture. In heat exchange, 80-90% porosity and relative surface area up to 500 m²/m³ facilitate movement of fluids and recovery of heat. For impact absorption, reproducible aluminum foam product can be designed with end use in mind. Product comes in 40 x 100 x 172 mm sheets with cell size of 10 mm and one surface clad in solid aluminum sheet.
---
Original Press Release:

Unique, Reproducible Aluminum Foam has Evenly Spaced, Open Pores



Coraopolis, PA ... Goodfellow, an international supplier of metals and materials for research and industry, has announced the availability of a unique, cost-effective aluminum foam that offers superior heat exchange and impact absorption for a wide range of applications.



The foam is made by sand casting, which allows the exact form of the foam to be determined before its manufacture. The result is a foam of stacked 10mm cells – evenly spaced, open pores, with each manufactured piece identical to and having exactly the same behavior as other pieces from the same casting process.



Advantages of the new foam are focused in two main areas. In heat exchange, the high porosity (80-90%) and very high relative surface area of up to 500 m2/m3 facilitate the movement of fluids and the recovery of heat, even at low speeds. For impact absorption, a regular, reproducible aluminum foam product can be designed with the end use in mind, making it possible to optimize the exact structure necessary to absorb the energy from an impact based on a specific application.



Goodfellow offers standard sheets of 40mm x 100mm x 172mm with a cell size of 10mm and one surface clad in a solid aluminum sheet. It is possible to specify other sizes or foams without a solid cladding on one surface. For more information, go to www.goodfellowusa.com or email info@goodfellowusa.com.



About Goodfellow

Goodfellow is a leading supplier of metals, polymers, ceramics and other materials to meet the needs of science and industry worldwide. The company specializes in supplying small quantities (a few grams to a few kilos) of metals and materials for research, prototype development and specialized manufacturing applications.  Standard products can be found online at the comprehensive Goodfellow Catalog (www.goodfellowusa.com). In addition, Goodfellow is often able to supply larger quantities of metals and materials or items manufactured to specific requirements.



Goodfellow Corporation

125 Hookstown Grade Road

Coraopolis, PA 15108

Telephone: 1-800-821-2870

Fax: 1-800-283-2020

E-mail: info@goodfellowusa.com

Web: www.goodfellowusa.com



Related