Replacement OEM Electric Water Pump is built for BMW vehicles.
Press Release Summary: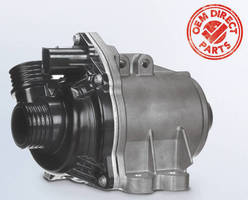 OEM Direct Replacement Parts Program offers OE Electric Water Pump with integrated Control Unit for BMW vehicles. VDO Electric Water Pump, VDO Part No. A2C59514607 (OEM Part No. 11517632426), is identical in fit, form, and function to OEM part. Operating independently from main cooling circuit and combustion engine functions, product delivers precise engine temperature control through variation of coolant volume flow. There are 3 variants, and mounting screws supplied as required.
---
Original Press Release:
Continental Offers VDO OEM Electric Water Pump for Wide BMW Range
• Exact BMW original equipment; identical fit, form and function

Allentown, PA – As part of its growing OEM Direct Replacement Parts Program, Continental Commercial Vehicles & Aftermarket now offers an OE Electric Water Pump with an integrated Control Unit for a wide range of BMW vehicle applications. The new VDO Electric Water Pump, VDO Part No. A2C59514607 (OEM Part No. 11517632426) is the exact OEM part and identical in fit, form, and function.

Built in OE ISO/TS certified facilities, the pump is manufactured to the highest quality and original equipment specifications as the OE components supplied to automakers worldwide.

Designed for vehicle specific application, this new Water Pump delivers precise engine temperature control through variation of coolant volume flow. It operates independently from the main cooling circuit and combustion engine functions. Continental produces three variants and separately supplies the three mounting screws as required for the installation of each variant.

Key BMW applications include: BMW 1 Series M 2011, 135i 2013-08, 135is 2013, 335i 2013-07, 335i xDrive 2013-09, 335is 2013-11, 335xi 2008-07, 535i 2013-08, 535i GT 2013-10, 535i GT xDrive 2013-11, 535i xDrive 2013-09, 535xi 2008, 640i 2013-12, 640i Gran Coupe 2013, 740i 2013-11, 740Li 2013-11, 740Li xDrive 2013, ActiveHybrid 5 2013-12, X1 2013, X3 2013-11, X5 2013-11, X6 2014-08 ands Z4 2013-09.

The VDO OEM Direct Program offers a unique solution for shop owners and technicians. These high quality, OE parts deliver excellent European, domestic and Asian coverage for high volume vehicles, as well as hard to find applications. Since the parts are OE components, installation is simplified and labor is reduced, leading to fewer comebacks.

The parts are competitively priced and come directly from the manufacturer, Continental.

In addition to the Electric Water Pump, Continental's VDO OEM Direct Parts Program also features Air Actuators, Electronic Throttle Valves, Flex Fuel Sensors, Fuel Injectors and Fuel Modules as well as MAF and MAP Sensors in the VDO OEM Direct Parts Program.

For more information, visit: www.vdo.com/usa or contact: salessupport-us@vdo.com.

Continental develops intelligent technologies for transporting people and their goods. As a reliable partner, the international automotive supplier, tire manufacturer, and industrial partner provides sustainable, safe, comfortable, individual, and affordable solutions. In 2015, the corporation generated sales of €39.2 billion with its five divisions, Chassis & Safety, Interior, Powertrain, Tire, and ContiTech. Continental currently employs more than 212,000 people in 55 countries.

Information management in and beyond the vehicle is at the very heart of the Interior division. The product portfolio for different types of vehicles includes: instrument clusters, multifunctional and head-up displays, control units, access control and tire-information systems, radios, infotainment systems, input devices, control panels, climate control units, software, cockpits as well as services and solutions for telematics and Intelligent Transportation Systems. The Interior division employs more than 40,000 people worldwide and generated sales of €8.2 billion in 2015.

Within the Interior Division the Commercial Vehicles & Aftermarket Business Unit accommodates the specific requirements of the commercial vehicle, special vehicle and aftermarket sector. A global network of sales and service companies ensures proximity to local customers. Covering the product brands Continental, VDO, ATE, Galfer and Barum the Business Unit offers electronic products, systems and services for commercial and special vehicles, a broad selection of products for specialized workshops and spare parts for the Independent Aftermarket and the Original Equipment Services after end of series production of the vehicle manufacturer.

Contact for journalists:

AnnaMaria Blose
Manager, Marketing Communications
Continental
Interior / Commercial Vehicles & Aftermarket
6755 Snowdrift Road, Allentown, PA 18106
Tel: (610) 289-0488 ext. 4002, Fax: (610) 289-1766
Email: annamaria.blose@continental-corporation.com
Related