Replacement Gasket works with quick-release dust cups.
Press Release Summary: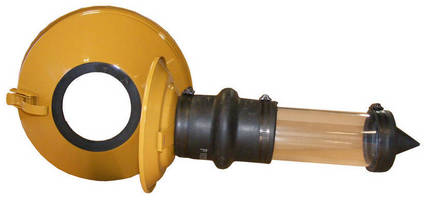 Not prone to wear and tear, P618619 snaps onto quick-release dust cups to replace sponge gasket that deteriorates and may become dislodged in service. Product withstood in-situ testing on drill rig at open cut coal mine, where it was subject to 1,500 hr of service and countless opening and closing of trapdoor. It did not exhibit any shrinkage and maintained durometer (hardness) and position throughout test. Also, use ensures there is no backflow of air between trapdoor and cup.
---
Original Press Release:

Gasket for Quick-Release Dust Cups



Donaldson Australasia has made available a new proprietary gasket for quick-release dust cups that does not suffer the common wear and tear problems with which industry has put up for so long.

The P618619 technology underwent extensive in-situ testing on a drill rig at an open cut coal mine. After about 1500 hours of service and countless opening and closing of the trapdoor, the Donaldson gasket stood the test.

The benefit of using this 'upgrade' gasket is that it is an easy snap-fit on the body of the cup and replaces the standard sponge gasket that quickly deteriorates and becomes dislodged in service.

There was absolutely no shrinkage, the durometer (hardness) of the gasket remained consistent with a new one throughout the test and it was still firmly in position when removed after 1500 hours of tough service.

The use of this gasket ensures there is no backflow of air between the trapdoor and cup, which under normal circumstances will see a large decrease in pre-cleaning efficiency via the Donaclone, or cyclone tubes, resulting in extremely short primary (outer) air filter service life.

P618619 also allows users to retain their quick release style dust cups, which make the monitoring of both the condition of the Donaclone tubes as well as contaminant levels in the bottom of the housing much easier because of the larger viewing area.

In many cases, sites were replacing them with cone shaped cups that had to be removed from the housing each time a tube/body inspection is required, which is a very time consuming exercise.