Repco Motor Control Replacement Parts Match up with Leading OEM's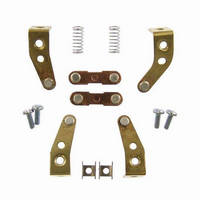 In March, Repco featured its private label brand replacement contacts for Allen Bradley's 500 Line. Repco's equivalent is comparable to the Allen Bradley's contact performance at a lower price point. Like all its replacement contacts for AC and DC motor controls, Repco's replacements for Allen Bradley's 500 Line carry a money-back guarantee.



Repco is able to do this because its standard replacement contact kits are engineered and manufactured using the same metals and alloys as the OEM original. The company's product offering includes over 90 contact series.



In addition to the 500 Series, Repco replacement electrical contacts for Allen Bradley include Bulletin 646, IEC 100-Line, Series A and K. Each of these contact series is available for immediate delivery from Repco's warehouse.



Industries that have especially struggled economically will welcome Repco products for their attractive price-performance ratio. These market sectors include manufacturing, mining and heavy lifting equipment. Many of Repco's customers are the top distributors in the nation, a testimony to the confidence up and down the supply chain.



Among the initial sectors predicted to have strong growth early in the recovery include refineries, shale gas, fossil, nuclear plant construction and mining – all requiring major capital investment in heavy equipment. The cost of parts for maintenance adds up quickly. Repco's additional lines are carbon brushes and control coils. Distributors are fueling the economic recovery by finding cost-effective and reliable sources for these parts to maintain industrial and commercial sector momentum.



For more information about Repco's replacement parts for OEM products see the company's replacement parts for motor control library.





More from Electrical Equipment & Systems