Repair and Patching Compound is offered in caulking tubes.
Press Release Summary: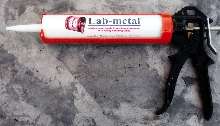 Single-component, aluminum-loaded Lab-metal hardens by exposure to air into sandable, grindable, tappable metal. Dent filler withstands temperatures to 350°F or one-time exposures to 425°F. Ready-to-use metal putty is also available as Hi-Temp Lab-metal, which withstands temperatures to 1000°F. Packaged in 20 oz caulking tubes, product seals seams and other specialized applications.
---
Original Press Release:
Lab-Metal Repair and Patching Compound, Now in a Tube, Solves High-Heat Patching Problems for Metalworkers
Lab-metal, a single-component aluminum-loaded repair and patching compound, is now available in caulking tubes. Lab-metal requires no two-part mixing and hardens (by exposure to air) into a sandable, grindable, tappable metal. The dent filler withstands temperatures to 350°F (or one-time exposures to 425°F). The ready-to-use metal putty replaces body fillers, latex and silicone caulks which simply cannot take extreme heat. Its high-temperature companion, Hi-Temp Lab-metal, withstands temperatures to 1000°F after the air-dried product is heat-hardened. Used by metal fabricators and finishers, metal furniture manufacturers, OEMs, machine shops, auto restorers, powder coaters, plumbers / HVAC professionals, foundries, and do-it-yourselfers, Lab-metal provides quick, neat cosmetic repairs to metal and non-metal items. Since 1950, welders, foundries and metal fabricators have used Lab-metal to fill dents and smooth over welds. More recently, the aluminum-loaded dent filler has emerged as a product leader in the young powder-coating industry, which demands heat-resistant cosmetic repairs to metal parts prior to the powder coating process. Lab-metal fills, seals, patches and smoothes dents, cracks, pinholes, and welded seams. Lab-metal (packaged in caulking tubes) is ideal for sealing seams and other specialized applications. Lab-metal (packaged in metal containers) is easily applied by putty knife, paint brush, spray equipment. Thinned with Lab-solvent, the metal repair putty may be brushed or sprayed onto the surface for a rustproof, metallic coating. Lab-solvent enhances the workability of Lab-metal; the applicator is simply moistened with Lab-solvent. Lab-metal is available in five sizes (metal containers), and in a 20 oz. caulking tube. Hi-Temp Lab-metal and Lab-solvent are each available in three sizes (metal containers). For additional information, please contact the manufacturer via email at sales@alvinproducts.com. For immediate service, log onto www.alvinproducts.com for product information. Alvin Products, Inc., 350 Merrimack St., Lawrence MA 01843 (978) 975-4580 o FAX (978) 975-2621
More from Electrical Equipment & Systems