REP Corporation NPE Booth 5139q to Display Specialized TPE Injection Press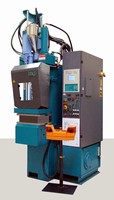 At the upcoming NPE show, Booth 5139Q, REP Corporation, the recognized world leader in rubber injection molding machine technology, will demonstrate the V18, a recently engineered version of its popular V17, a 40-ton injection press. The V18 is specifically designed to mold demanding thermoplastic elastomer (TPE) compounds, the fastest growing need of traditional plastics and rubber molders worldwide.

TPE compounds are now used by an increasing number of automotive, appliance and other OEM's, owing to their cost/recyclability advantages over conventional rubber, their material performance characteristics and their "soft touch" aesthetic appeal to the consumer. In response, more molders have considered various equipment alternatives or modifications to conventional injection presses to process these materials. REP has responded with the V18.

A specially engineered reciprocating plastic injection unit is attached to this press frame. Accurate shot control, temperature regulation and potentially eliminating the need for shut-off nozzles are the highlights of this injection unit.

The V18 has a small footprint, only 38" x 61", with a decidedly more compact construction design than conventional plastics machines of this injection capacity.

The press will be running TPE parts throughout NPE, at the REP booth, 5139Q. REP engineers will be at the booth to discuss this new press, plus the retrofit capabilities offered by the company for TPR/TPE molding, as well as the other injection presses in the REP line.

For more information, please contact: REP Corporation, 8N740 Tameling Court, Bartlett, IL 60103-8146. Phone: 847-697-7210. Fax: 847-697-6829. Web: www.rep.tm.fr. Email: [email protected]. Attention: Tim Graham.